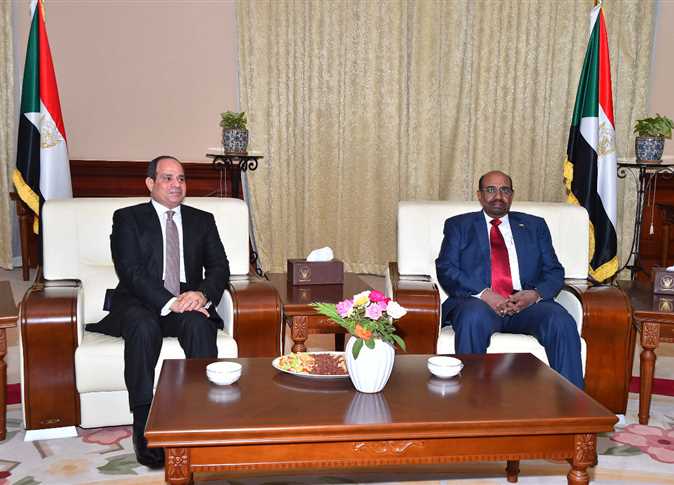 Egyptian President Abdel Fattah al-Sisi will arrive in Sudan's capital Khartoum on Thursday, October 25 to participate in the Egyptian-Sudanese Higher Committee (ESHC) meeting, Sudanese media reported over the weekend.
The Sudan Tribune newspaper reported Sudan's Ambassador to Cairo, Abdel-Mahmoud Abdel-Halim saying that a presidential summit between Sisi and Sudanese President Omar al-Bashir would also be held during the visit.
He said that this presidential summit will bring "good news" to the people of the two countries, describing the meeting as a very important event for bilateral relations in terms of its timing and the issues under discussion.
Abdel-Halim added that the meeting would discuss ways to enhance relations on all aspects as well as regional issues of common concern. He pointed out that a number of agreements and MOUs would be signed during the visit.
Relations have been strained between Egypt and Sudan since January, due to Sudan's claims of sovereignty over Egypt's southern Halayeb Triangle region, as well as the Sudanese stance on the Grand Ethiopian Renaissance Dam.
Sudan recalled its ambassador to Cairo in January amid the crisis.
In January, President Sisi said that Egypt does not interfere in other countries' affairs and has no intention of fighting its "brothers" in Sudan.
In February, a newly formed committee, comprised of the foreign ministers of Egypt and Sudan along with intelligence-agency heads, met in Cairo to resolve any issues that could hamper relationship between the two countries.
Ambassador Abdel-Halim returned to Cairo in March, nearly two months after he was recalled to Khartoum due to heightening  tensions between the two countries.
Edited translation from Al-Masry Al-Youm