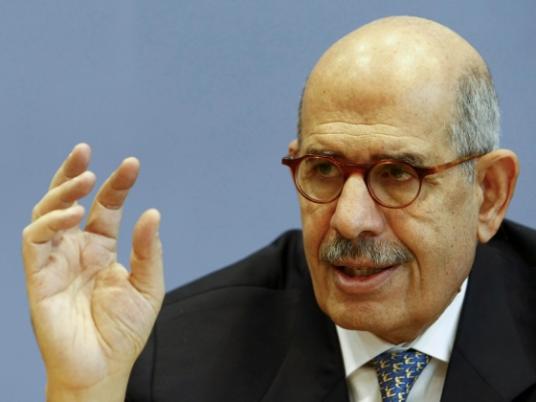 Renowned Egyptian law scholar, diplomat and former Vice President Mohamed ElBaradei discussed on Sunday the current controversial debate over the sovereignty of Red Sea islands Tiran and Sanafir.
In his latest tweets on his personal Twitter account, ElBaradei stated that shipping routes around both Red Sea islands are guaranteed under any sovereignty by article number 2/5 in the peace treaty between Egypt and Israel.
In the same context in a different tweet, ElBaradei wrote that there are numerous alternatives to transferring sovereignty over the islands that would enhance common economic co-operation between both countries.
The maritime demarcation deal signed in 2016 stipulated that sovereignty over Tiran and Sanfir should be transferred to Saudi Arabia.
To curb the implementation of the deal, prominent lawyer Khalid Ali sued the government and produced documentation of judicial verdicts from Egypt's supreme courts that assert Egyptian sovereignty over the Red Sea Islands.
ElBaradei was the Vice President of the Interim President Adly Mansour in 2013 following the uprising that toppled the Muslim Brotherhood affiliated former President Mohamed Morsi from power.
However, ElBaradei decided to step down from his position and leave Egypt following the dispersal of the outlawed MB group's sit-in at 'Rabaa' square in Nasr City in Cairo.
He is currently facing a lawsuit adopted by lawyer Samir Sabry calling to revoke ElBaradei's Egyptian nationality over charges of inciting violence against state institutions.
The lawsuit is expected reach a verdict on June 18.