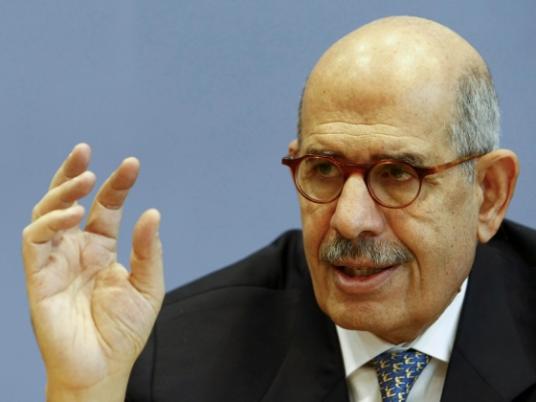 Constitution Party founder Mohamed ElBaradei said Monday that his meeting with members of the military council two days ago was fruitful and resulted in mutual understanding.
ElBaradei said in a briefing that they discussed Egypt's current problems, adding that now is the time for national reconciliation after the election of the new president. He urged all Egyptians to think of the future of the country.
ElBaradei met Saturday with head of the military council Field Marshal Mohamed Hussein Tantawi and other SCAF members at the headquarters of the Defense Ministry. ElBaradei requested the meeting.
The parties discussed the supplement to the Constitutional Declaration, the dissolution of the People's Assembly and the recently passed law allowing army and intelligence personnel to arrest civilians, said sources familiar with the meeting.
Tantawi stressed his respect for the judiciary's ruling that dissolved Parliament, and requested to postpone discussions of the supplement to the Constitutional Declaration and the arrest law until the results of the presidential election were announced. He promised to continue discussions and reach a solution that would satisfy all parties.
Attendees of the meeting also discussed possibilities for national reconciliation, said Mostafa Bakry, former MP of the now dissolved Parliament.
Edited translation from Al-Masry Al-Youm