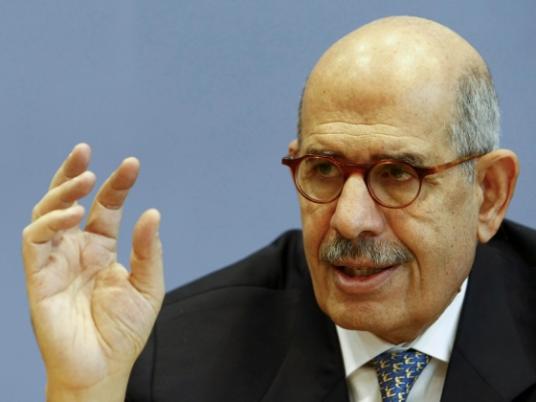 Former Vice-President for External Affairs Mohamed ElBaradei triggered controversy on Wednesday when he asked on Twitter if declaring Hamas a terrorist organization would mean that the Palestinian national consensus government would also be terrorist, in reference to the ruling of the Urgent Matters Court.
Mohamed Esmat Sadat, president of the Reform and Development Party, commented on ElBaradei's question, saying that he should spare the country his struggle on Twitter. "The country needs no philosophasters," he said. " And whoever wants to oppose it should do so from here and not from abroad."
Akmal Qirtam, president of the Conservative Party, said judicial rulings must be respected and excluded from any political conflict. "Hamas has proved to be a terrorist organization," he said. "And the ruling was issued by the Egyptian people before it was confirmed by the court."
Wafd Party Assistant President Tarek Tohamy said ElBaradei's tweet came in defiance of the regime and not in criticism of the judiciary.
Sayed Qassem, former president of the Constitution Party, said ElBaradei's question is interesting. "Hamas is a political movement in the first place," he wrote. "We must distinguish between Hamas and the Ezzedine al-Qassam Brigades." He added that it remains to be seen whether the Egyptian authorities would deal with the Palestinian national consensus government or boycott it because a terrorist organization is part of it.
Edited translation from Al-Masry Al-Youm