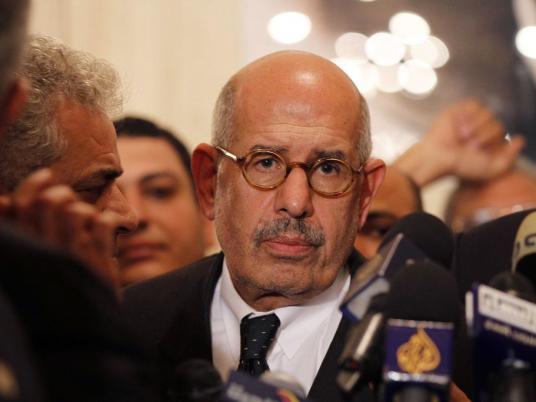 Constitution Party head Mohamed ElBaradei was criticized by Islamists Tuesday for telling the German magazine Der Spiegel that Constituent Assembly members have withdrawn from the panel because it is dominated by Islamists who deny the Holocaust.
ElBaradei addressed many issues in the interview, which was published on the magazine's website Monday, varying from the Constituent Assembly, the new constitutional declaration, US aid to Egypt and the Arab Spring.
In response to a question about President Mohamed Morsy's recent constitutional declaration, ElBaradei said: "He grabbed full power for himself. Not even the pharaohs had so much authority, to say nothing of his predecessor Hosni Mubarak. This is a catastrophe — it a mockery of the revolution that brought him to power and an act that leads one to fear the worst."
ElBaradei justified numerous resignations from the Constituent Assembly, especially by liberals and Christians, saying, "We all fear that the Muslim Brotherhood will pass a document with Islamist undertones that marginalizes the rights of women and religious minorities."
"Who sits in this group? One person who wants to ban music because it's allegedly against Sharia law; another who denies the Holocaust; another who openly condemns democracy," he continued.
Parliamentary Affairs Minister Mohamed Mahsoub called on ElBaradei to deny what he said.
"ElBaradei is telling the West that we are its enemy," Mahsoub said. "I am shocked that he also said the Sharia marginalizes women's rights and religious minorities."
He said ElBaradei aims to tarnish Egypt's image abroad. "Any political dispute must stay at home," he said, adding that the members of the Constituent Assembly represent the Egyptian people. "We must learn to coexist in harmony in order to achieve security and stability."
However, Wasat Party leader Essam Sultan said that members of the assembly told him they do not believe the Holocaust took place.
Sultan posed three questions to ElBaradei: if he believes the assembly should continue working, why he resorts to the West and why he calls on the army to step in.
"He should not launch personal attacks," Sultan said. "I invite him for a national dialogue on the assembly."