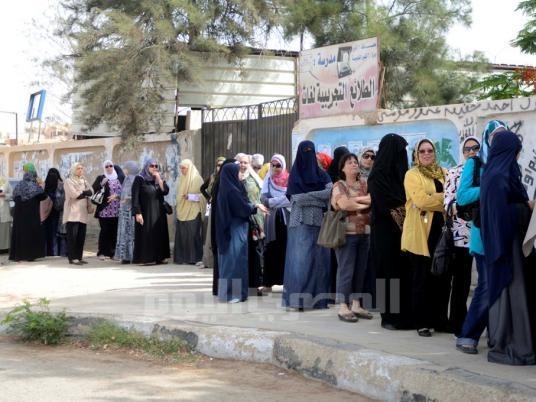 On the first day of Egypt's first post-Hosni Mubarak presidential election, violations of electoral laws and fair practices are occurring sporadically across the country. Some campaigns are violating the legally mandated period of campaigning silence, but thus far, no evidence of vote rigging and vote buying has been documented.
During the parliamentary elections, violations of the campaign-silence period were widespread. Parties sent mass text messages encouraging people to vote for their candidates and Muslim Brotherhood volunteers were ubiquitous at polling stations around the country, handing out fliers while helping voters to find their assigned stations.
Similar violations are occurring today, but so far are less widespread than they were during the November elections. Reports have also emerged of other minor irregularities, including polling stations opening late and suspicious activities from poll workers. Several official complaints have been filed by various campaigns.
At the School Compound, a cluster of 11 schools in the poor Cairo neighborhood of Dar al-Salaam, a female election observer allowed campaigners for Abouel Fotouh to help voters find their proper polling stations. "As long as you're not Brotherhood or feloul [remnants of the regime]," she said to the campaigners.
In Abu Helal, a rural area in the Upper Egyptian governorate of Minya, Muslim Brotherhood members are standing outside polling stations urging people to vote for their group's candidate, Mohamed Morsy. They were not seen passing out campaign literature or fliers.
In Mansoura, the capital of Daqahlia Governorate in the Nile Delta, Morsy supporters stood about 30 meters outside of a polling station and distributed instructions on how to vote. Supporters of Ahmed Shafiq, a former minister under the deposed regime, were doing the same. The same practices are occurring in Suez.
In Mahalla, a major industrial city in Gharbiya Governorate, supporters of Nasserist candidate Hamdeen Sabbahi stood in a pick-up truck bearing a poster of their candidate and handed out sandwiches and drinks to passers-by. In Suez, Sabbahi supporters stood outside polling stations urging voters to choose the Nasserist candidate.
Sabbahi's campaign has filed official complaints with the Presidential Elections Commission against other campaigns. A campaign members said that in Dar al-Salaam, military personnel left posters for Amr Moussa, Mubarak's former foreign minister, hanging inside polling stations. The campaign also reported that in Sharqiya Governorate, printed materials and posters were distributed by Shafiq, Morsy and Abouel Fotouh supporters.
The campaign of labor lawyer Khaled Ali says that in the Upper Egyptian governorate of Aswan, 15 polling stations failed to open as scheduled after a number of judges had excused themselves from managing the polls.
In Beni Suef, an army officer denied official observers representing the candidates from entering Al-Taymouriya School polling station, according to the Ali campaign. The campaign added that its representatives have also been blocked at some polling stations in Cairo and Giza. The campaign also said that an employee at one polling station in the Giza neighborhood of Imbaba was filling out ballots for voters, in violation of the law.
The Khaled Ali campaign also filed a complaint against Morsy in Garden City, a wealthy neighborhood in central Cairo. The Ali campaign says Morsy supporters breached the silence period by putting up a banner in front of the polling station there at the Ibrahimiya School. Janette Abdel Alim said she filed a complaint at the nearby Qasr al-Nil police station.
While casting his vote in Nasr City, Ali criticized the PEC's performance as "theatrical." He said it is dangerous to continue with the poll, despite violations from the Brotherhood's campaign.
Observers without Borders, an election monitoring group, has filed a complaint with the Presidential Elections Commission against Abouel Fotouh's campaign, accusing it of circulating campaign posters and envelopes bearing their candidate's slogan and registration number in Heliopolis, Roxy and some areas in Nasr City, with some backers knocking on doors to hand out the materials to citizens.
Shafiq held a press conference on Wednesday morning to reiterate his campaign promises and assure voters that he is alive and healthy after rumors about an assassination attempt. Hafez Abu Saeda, the head of the Egyptian Organization for Human Rights, wrote on Twitter that he would file a complaint against the candidate because the press conference violated the campaign blackout rule.
Still, the election is considered fair, especially compared with past elections in Egypt. In Old Cairo, a poor neighborhood that during the 2010 parliamentary elections was the scene of widespread fraud, intimidation and violence, voting is going smoothly.
"I was expecting a lot more disorder. I thought maybe there would be skirmishes or clashes," said Yousry Hanafy, an unemployed 21-year-old. "This isn't like every other year."