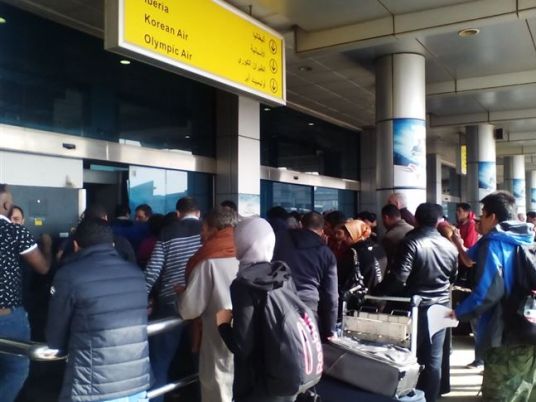 Cairo Airport authorities have launched an investigation after of a bag was detected coming from Qatar containing a large number of electrical circuits used in explosive devices.
The bag was detected by police officers among the luggage of Palestinian pilgrims returning from Saudi Arabia after the Hajj season, which ended recently with Eid al-Adha.
According to initial investigations, pilgrims returning to Gaza were seeking to smuggle the circuits to militants in Rafah, North Sinai.
No further details have been released on the incident or the identities of those involved.
Egyptian security officials are on high alert due to an ongoing Islamist insurgency and a series of terrorist attacks and air distasters.
Insurgents are battling Egytian military and security forces for control of North Sinai, with almost daily clashes involving firearms and explosives. Police and military personnel are routinely killed and wounded in incidents involving drive-by shootings, ambushes and road-side bombs.
Shooting attacks, mostly on police personnel, have also spread to Cairo, while several targetted assassinations have been conducted, with police and judges among the dead.
Explosives are also a concern to air transport authorities after two passenger aircraft were downed in the past year. In the first, a Russian jet was brought down over Sinai, with the loss of 224 passengers and crew. Investigators suspect a bomb was planted by Islamist mlitants linked to the Islamist State terrorist group.
In May, an EgyptAir plane crashed into the Mediterranean within Egyptian airspace, with the loss of 66 lives. Investigators are currently examining the wreckage and flight data to determine the cause of the crash. Recent reports of traces of explosive materials discovered on some wreckage appears to point to another bomb, although Egyptian officials have said no such conclusions can be drawn at this stage.
Since the Russian air disaster, security experts from various nations have been working with Egypt to tighten airport security measures in all areas. Russia has made security improvements a condition for the resumption of tourist flights bringing Russians to resorts such as Sharm el-Sheikh in South Sinai. Egypt has been applying improved security measures at all airports and the two nations are close to a deal on the resumption of flights.
Relations between Egypt and Qatar have been strained in recent years. The Egyptian government claims that Qatar has been seeking to undermine the Egyptian state by supporting Islamist political forces and terrorist groups, boosting their operations via Qatar-based news media such as the Al-Jazeera news network.
Edited translation from Al-Masry Al-Youm