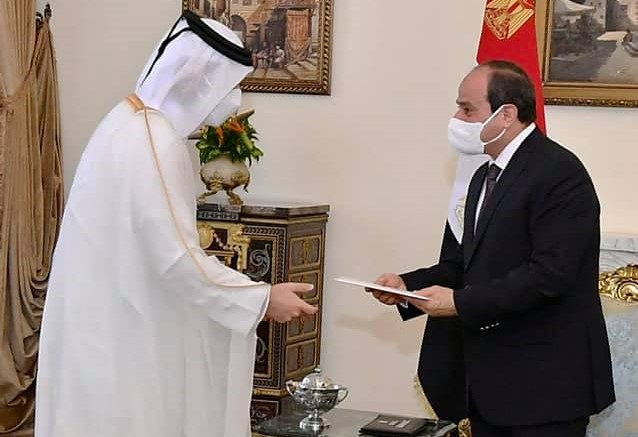 Egyptian President Abdel Fattah al-Sisi received on Tuesday the Minister of Foreign Affairs of Qatar, Sheikh Mohammed bin Abdulrahman al-Thani. Both sides exchanged greetings and praise, with Thani extending an invitation for Sisi to visit Doha.
Sisi received the Qatari minister in the presence of his Egyptian counterpart, Sameh Shoukry, the head of Egyptian Intelligence, Abbas Kamel, and the head of the Qatari State Security Service, Abdullah Al-Khulaifi, according to Sisi's spokesperson Bassem Rady.
The Qatari FM expressed his country's keenness to enhance communication and relations, as well as to discuss developments in regional and international situations.
Rady said: "The Qatari Minister of Foreign Affairs appreciated the strategic and pivotal role that Egypt plays under the leadership of the President [Sisi] in protecting Arab national security and defending the Arab nation's issues, as well as Egypt's efforts and tireless endeavors to establish security, stability and development at the regional level."
Sisi asked the Qatari FM to "convey his greetings to Sheikh Tamim bin Hamad Al-Thani, Emir of the State of Qatar, expressing Egypt's happiness with the recent developments in Egyptian/Qatari relations.
The Egyptian President stated that he is ready for progress that serves the goals and interests of the two state while preserving the security and stability of the Arab region."
Egypt and Qatar met in Kuwait in February for the first time since ending the years-long diplomatic freeze between the two countries in January.
The resumption of ties came after nearly four years of a row between Qatar and Egypt, Saudi Arabia, Bahrain, and the UAE over Qatar's alleged terrorism sponsorship and its close relations with Iran.
The countries agreed to reconcile during the Gulf Cooperation Council (GCC)'s summit meeting in al-Ula, Saudi Arabia in January.
Delegations from Egypt and Qatar welcomed the re-initiation of relations brought upon by the summit, calling it a step on the path of building confidence between the two countries.
Following the reconciliation, Egypt's Aviation Ministry reopened Egypt's airspace to Qatari flights on January 12.