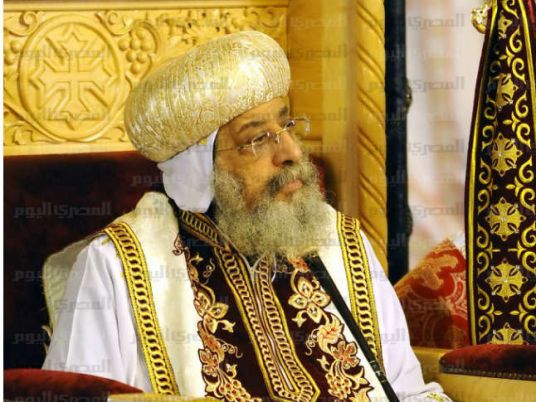 The Emir of Kuwait, Sheikh Sabah al-Ahmad al-Jaber al-Sabah, received Pope Tawadros II, Pope of Alexandria and Anba Antonious, the Coptic Orthodox metropolitan archbishop of Jerusalem, at Bayan Palace yesterday.
The Pope and his entourage arrived at Bayan Palace for a lunch with Sabah and Palestinian President Mahmoud Abbas.
Pope Tawadros' visit, the first to Kuwait, comes at the official invitation of Sabah, who was inaugurated in December 2012. The Pope is accompanied by a delegation of bishops: Bakhomios, Bishop of Beheira, who has served as a preacher in Kuwait before his monastic order; Anba Marcos, Bishop of Shubral-Kheima; and Anba Yusab, Bishop-General of Luxor.
The Pope pointed to the patriotism, courage and determination of the Egyptian army in ridding the country of the threat of terrorism and extremists.
In an interview with Kuwaiti newspaper al-Nahar before the visit, Pope Tawadros said the Egyptian state has done its duty toward the victims of the church bombings and thanked the State of Kuwait for hosting the first Coptic church (in Arab country) outside of Egypt, saying that the Kuwaiti people are hospitable and generous and their country has a long history in serving humanity and the Arab citizens.
On the bombing of Saint Mark's Coptic Orthodox Cathedral in Alexandria, and Saint George's Coptic Church in Tanta, the Pope said: "I say to all Egyptians, do not be afraid. We are a strong country in the cohesion of our people. I say to the sinful terrorists [go to another country], your message will never reach the Egyptians."
"As for the injured," Pope Tawadros went on, "the state has done its duty to care for their health to the fullest; and as for me, the hand of God takes care of me."
Tawadros reiterated that the Egyptian people are fully aware of the difficult measures taken by the government to reform the economy, notably the flotation of the pound; knowing full well that this entails going through years in which they suffer economic troubles, Tawadros said.
On the visit of Pope Francis I to Egypt, Tawadros said the schedule remains unchanged, adding that it is the second visit of a pope from the Vatican City to Egypt.The first such visit was in 2000, by former pope, John Paul II.