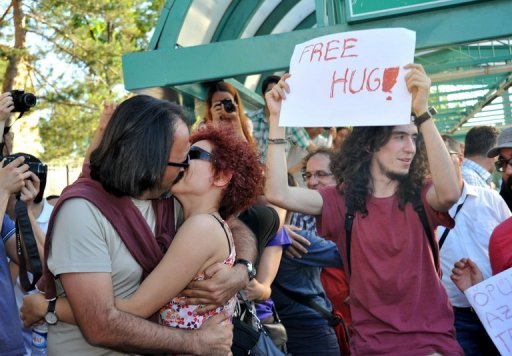 The trial opened on Monday of almost 50 suspects accused of plotting to assassinate President Recep Tayyip Erdogan at a luxury Aegean hotel on the night of the botched July 15 coup.
Forty-four suspects, mainly soldiers, are under arrest, while three others still on the run are being tried in absentia at the court in the southern city of Mugla.
The suspects, several smartly dressed in suits and ties, were led into the courthouse by security forces in front of television cameras to whistles and shouts of derision from onlookers, AFP correspondents said.
Erdogan, who was holidaying at a hotel in the upmarket Aegean resort of Marmaris with his family on the night of the coup, has said the plot left him 15 minutes from death.
Prosecutors have sought multiple life sentences for each of the suspects, who include an alleged hit squad of 37 soldiers suspected of seeking to carry out the plan.
Turkish officials say the plot to kill Erdogan was a key part of the plan to usurp the elected government, a plot they say was masterminded by the US-based Muslim cleric Fethullah Gulen.
Two Turkish policemen who were helping to guard Erdogan at the hotel were killed, according to the indictment.
Accompanied by close family members including his son-in-law, Energy Minister Berat Albayrak, Erdogan managed to flee Marmaris and fly to Istanbul where he oversaw the suppression of the coup.
"If I had stayed 10 or 15 additional minutes there, I would have been killed or I would have been taken," Erdogan told CNN in an interview on July 18.
Some 43,000 people have been arrested following the coup attempt in a massive crackdown on followers of Gulen that has raised international concerns.
Gulen vehemently denies being behind the plot.
The Mugla trial is one of many now getting underway across the country to judge the coup suspects, the biggest legal process in the country's modern history.