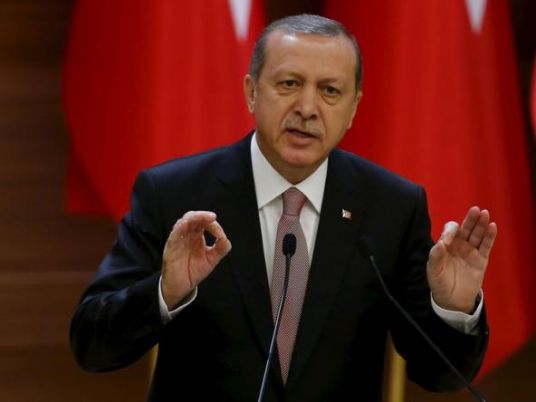 Turkey's President Tayyip Erdogan on Thursday said it was "out of the question for the moment" that Turkish troops would withdraw from Iraq, after Baghdad accused Ankara of sending them in without permission.
The row has badly soured relations and saw the Turkish ambassador to Iraq summoned on Saturday to demand that Turkey immediately withdraw hundreds of troops deployed in recent days in northern Iraq, near the Islamic State-controlled city of Mosul.
Iraq's foreign ministry said Turkish forces had entered Iraqi territory without the knowledge of Baghdad, which viewed their presence as a "hostile act".
Speaking at a news conference, Erdogan said the troops were there to train Kurdish peshmerga fighters and not for combat purposes. He reiterated an earlier statement that they had been deployed following an invitation by Iraqi Prime Minister Haider al-Abadi last year.
"The number of our soldiers (in northern Iraq) might increase or decrease depending on the number of peshmerga being trained," Erdogan stated.
"Withdrawing our soldiers is out of the question for the moment."
Erdogan said there would be a trilateral meeting between Turkey, the United States and Kurdish northern Iraqi authorities on December 21 but made no mention of talks with Baghdad.
Later on Thursday, prime ministerial sources said PM Ahmet Davutoglu had at the request of US officials spoken to Vice President Joe Biden.
Davutoglu told Biden that Turkey co-ordinating with Iraq in its efforts to tackle Islamic State, and that a letter to the Iraqi prime minister laying out the Turkish position was being delivered by a high-level delegation which included Turkey's spy chief, Hakan Fidan.
"He expressed that Turkey will continue to contribute to the government of our friend Iraq's fight against (Islamic State), in coordination with Baghdad," one source added. The White House confirmed the call had taken place.
Speaking to his counterpart earlier this week, the Turkish foreign minister emphasised Ankara's respect for Iraqi territorial integrity and said further troop deployments had been halted for now.
The furore is the latest blow to Turkey's beleaguered regional relations. Ties with former allies Egypt and Libya are troubled, and Ankara is trying to defuse a row with Moscow after Turkish jets shot down a Russian warplane last month.