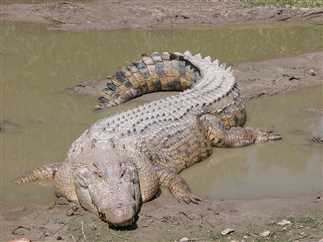 The emergency police in Monufiya governorate received a report about a crocodile that escaped from its owner in the water canal in the village of Kafr al-Masilha, affiliated to the Shebin al-Koum Center, causing panic among the villagers.

A committee of veterinary medicine and the east Shebin al-Koum local authorities, backed by a police team, moved to the canal in search of the animal but were unable to locate it.
Villagers reported a small crocodile accompanied by a young man in the village who raises exotic animals. As he was taking out the crocodile for a walk, it escaped into the water canal according to the Masrawy website.
The police remain stationed in at the water canal, in search of the crocodile.
Masrawy news website published a picture of the crocodile a day after it disappeared in the canal, saying it measured about 80 centimeters. 
However according to the head of the Veterinary Medicine Directorate in Monufiya Ibrahim Aboul Ghar, the reports have yet to be fully confirmed – nonetheless the directorate is taking the matter seriously.