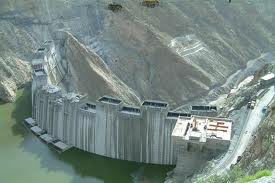 Berhane Gebre Christos, Ethiopian State Minister for Foreign Affairs, refuted on Sunday claims that his country's project to build a dam on a tributary of the Nile River would affect Egypt's share of Nile water.
In April 2011, in order to generate electricity, Ethiopia began building the Millennium dam, or "Grand Ethiopian Renaissance Dam," on the Blue Nile, one of the tributaries of the Nile River. Cairo fears that the dam will reduce its share of Nile water.
"The dam will not affect Egypt's quota of Nile water in the least," Christos said, speaking to Egyptian journalists on the sidelines of the 21st African Summit, which concluded on Sunday in Addis Ababa. "We do not seek to harm Egypt by building this dam."
He explained that, in Ethiopia, the Nile River is formed like a narrow deep slope, which means that its waters cannot be used for irrigating higher land.
The only real use Ethiopia has for the Nile, therefore, is for generating electricity, a process which does not result in any water consumption, Christos said. Indeed, after the water moves the turbines to generate electricity, it continues unimpeded all the way to Egypt, he assured.
When asked about technical problems associated with building the dam, if and how water would be stored, and what the impact on Egypt would be, Christos said that while experts were currently looking into these issues, studies from the last 60 years have shown that there will not be a significant effect on Egypt.
"Ethiopia is aware of Egypt's need for water," the Ethiopian minister said, addressing the Egyptian people. "We do not claim that the Nile River, with 84 percent ​​of its water originating in Ethiopia, belongs to us alone. We understand Egypt's interests."
He noted that Ethiopia is open to signing an agreement with Egypt for the benefit of the two countries.
He explained that the electricity to be generated by the dam will not be Ethiopia's alone, but can be exported to Egypt and Sudan, especially given that it will produce in excess of its own needs, to the tune of six thousand megawatts of energy.
"There is no foreign influence on this project, including from Israel. It is not funded by any outside party, but is an Ethiopian project through and through," the minister stated.
"We currently enjoy excellent relations with Egypt, unlike with the former Egyptian regime, which did not exert any effort to cooperate with us or find a common interest for both countries," he said of Mubarak's government, known for its cold relations with Ethiopia.
Egyptian-Ethiopian relations are currently on the right track. Indeed, Christos told reporters that officials from both countries have agreed to exchange visits in the future, although no specific date has been set for the Ethiopian prime minister's trip to Cairo.
Edited translation from Al-Masry Al-Youm
Correction: An earlier version of this story had wrongly cited Mr. Berhane Gebre Christos as the Ethiopian Minister of Foreign Affairs