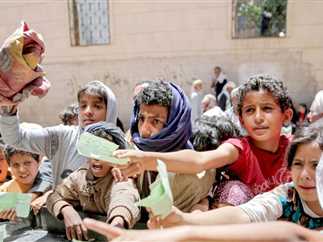 The EU expressed "grave concern" on Tuesday regarding human rights violations in Yemen, calling on all parties to respect human rights no matter what while numerous major international organizations warned of an exacerbation of the hunger crisis in Yemen.
"The size of human rights violations in Yemen is a supply of concern to the European Union," said Deputy Head of the EU Mission to Yemen, Marion Lallis, on Twitter.
Lallis stressed that these rights cannot be bartered and must be respected by all parties in all circumstances and times.
She stressed that the EU is fully convinced that there is no military solution to the Yemeni conflict and that Yemenis need to come together and agree on a comprehensive political settlement.

And the United Nations Children's Fund (UNICEF), the World Food Program and the Food and Agriculture Organization of the United Nations (FAO) have all warned of the aggravation of the hunger crisis in Yemen, which has put the country teetering on the brink of disaster.
The organizations indicated that about 17.4 million people in Yemen need food aid, while about 2.2 million children across Yemen suffer from acute malnutrition.
"The new IPC analysis confirms the deterioration of food security in Yemen. The resounding takeaway is that we need to act now. We need to sustain the integrated humanitarian response for millions of people, including food and nutrition support, clean water, basic health care, protection and other necessities," said the Resident and Humanitarian Coordinator for Yemen, David Gressly.
UN agencies expect the humanitarian situation in Yemen to worsen between June and December 2022, as the number of people who may not be able to meet their minimum food needs is likely to reach a record 19 million people during that period, according to the UN Information Center.
Edited translation from Al-Masry Al-Youm