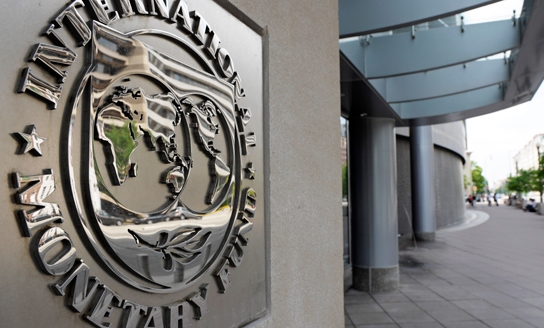 CAIRO — A senior EU official urged Egypt on Sunday to conclude its talks with the International Monetary Fund on a US$4.8 billion loan agreement, saying the deal would help restore international confidence in its wrecked economy.
Already struggling after two years of unrest following Egypt's 2011 revolution, the economy has been hit by a new bout of turmoil in recent weeks, with tensions over a new constitution damaging people's confidence in the government.
Economists now fear Egypt is running out of foreign currency reserves too fast, making the IMF deal vital to stabilizing its finances. Egypt has already spent more than $20 billion over the past two years to defend its currency.
"An agreement with the IMF will open the door to further lines of credit and will help reestablish the confidence of international investors and economic partners," European Council President Herman Van Rompuy said on a visit to Cairo.
"I welcome therefore the fact that important discussions with the IMF are continuing," he said after talks with Egyptian President Mohamed Morsy.
Egypt won preliminary approval from the IMF in November but subsequent turmoil forced the government to delay a series of bitterly unpopular austerity measures deemed necessary to win the IMF board's final approval.
On 29 December its central bank alarmed investors when it said its foreign reserves had reached a "minimum and critical limit".
Adding to pressure on the Egyptian pound, violent protests in late November and early December set off a rush to convert the local currency into dollars, sending the pound to record lows on fears of a messy devaluation.
Importers have also warned that the weakening currency and uncertainty about how low it can go could lead to sharp rises in the prices of imports — a decisive factor for a desert country which depends on food imports.
Prime Minister Hisham Qandil told a Cairo business forum that a "home-grown fiscal and financial program" agreed with the fund in November had to be tweaked, delaying implementation, but said talks with the IMF would resume soon.
"Because of the domestic situation we had to postpone that (plan), so we are doing a quick evaluation. We are going to be back on track very soon," he said.
"We are committed to reform. We are committed to deal with the budget deficit."
Officials said earlier an IMF team was expected to visit Cairo in two to three weeks. Egypt's newly named central bank chief said last week there was no need to be worried about the currency situation.
Speaking alongside Morsy, Van Rompuy said the European Union and other institutions had offered Egypt over 5 billion euros to support its transition but gave no breakdown.
In September, the EU said it was pledging 700 million euros in aid to Egypt. The European Bank for Reconstruction and Development (EBRD) has also announced a fund to invest in Egypt and other Arab states, saying those investments would reach 2.5 billion euros a year by 2015.
Qandil said on Sunday that Egypt planned to hold an international economic forum in coming months to highlight investment plans, and would also hold business roadshows to attract investors.