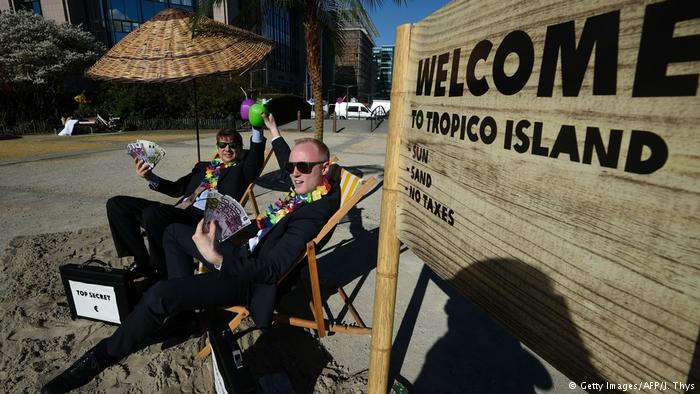 Officials and activists have decried a decision by EU ministers to remove several states from a tax haven blacklist. Among those delisted is Panama, less than two years after its secretive tax loopholes were leaked.
European Union finance ministers agreed on Tuesday to remove eight jurisdictions from its 17-country tax haven blacklist after they committed to cooperating on tax and abiding by EU standards.
"Eight jurisdictions have been removed from the EU's list of non-cooperative jurisdictions for tax purposes, following commitments made at a high political level to remedy EU concerns," an EU statement said.
Barbados, Grenada, South Korea, Macao, Mongolia, Tunisia and the United Arab Emirates joined the most controversial country to be removed, Panama.
Vladislav Goranov, the finance minister of Bulgaria, the country holding the rotating EU Presidency, said that the initiative proved that "jurisdictions around the world have worked hard to make commitments to reform their tax policies."
France's Finance Minister Bruno Le Maire tweeted that "European pressure has brought its first results!"
The list was drawn up just last month in a bid to double down on tax avoidance. Countries must pledge to address EU concerns over their domestic tax policy, or risk being blacklisted. A spot on the blacklist increases the risk of being slapped with sanctions.
The 55 countries that initially made that pledge are currently on a so-called grey list, and will have their efforts evaluated in Brussels at the end of year. Those that fulfil their promises will be removed from the grey list, while those that fail to will be blacklisted.
The nine remaining blacklisted countries are American Samoa, Bahrain, Guam, Marshall Islands, Namibia, Palau, Saint Lucia, Samoa and Trinidad and Tobago.
EU tax haven measures scrutinized
The list, however, has drawn a great deal of scrutiny from lawmakers in Brussels and campaigners alike, with the decision to delist Panama drawing particular ire. Less than two years ago Panama was at the center of the biggest leaked disclosure of tax secrecy ever, the Panama Papers.
"Today's decision is a confession of failure, said Markus Ferber, vice chair of the European Parliament's economic committee. "Crossing Panama, one of the world's most prolific tax havens off the blacklist, is a disastrous sign in the fight against tax avoidance."
Ferber suggested that the list should even expand to include EU member states and their jurisdictions with tax policy loopholes, including Malta, Cyprus and the British Virgin Islands.
EU Economic Affairs Commissioner Pierre Moscovici has also urged ministers to publish the listed countries' individual commitments to reform their tax policy, allowing for public oversight of the process.
Those concerns in Brussels were echoed by Oxfam's EU Policy Advisor, Aurore Chardonnet, who accused ministers of "rushing to take countries off the blacklist without it being clear what they have actually committed to improve; this is further undermining the process."
Chardonnet also urged the EU to crack down on tax havens within the bloc, adding that four members states would actually fail the EU's own blacklisting criteria. EU governments should tackle tax havens within the EU with the same urgency they are pressuring other countries to adopt tax reforms that were decided by an exclusive club of rich countries," she said.