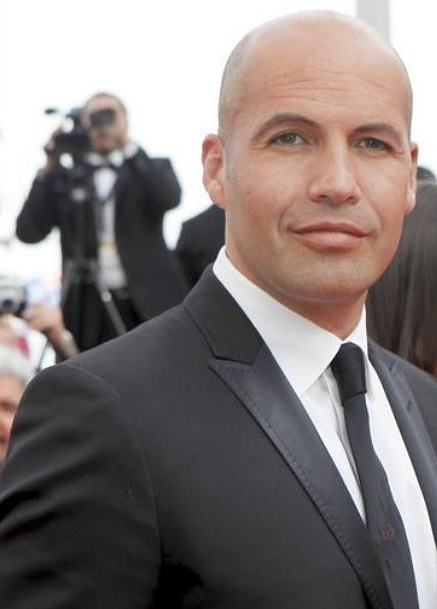 On the sidelines of the 41st edition of the International Cairo Film Festival (CIFF), prominent actor and producer William George, better known as Billy Zane, recently traveled to Egypt, receiving a Special Tribute Award on Wednesday, November 26.
Known for his roles in "Back to the Future" (1985), "Dead Calm" (1989) "Critters" (1986), iconic television series "Twin Peaks" (1990), "Tombstone" (1993) and "Demon Knight" (1995),  Zane is most famous for portraying the iconic villain Caledon Hockley in "Titanic" (1997) alongside Leonardo DiCaprio and Kate Winslet.
Zane was nominated for an MTV Movie Award for Best Villain based on his performance in "Titanic," later winning a Blockbuster Entertainment Award for the same role.
Zane is also the founder of RadioactiveGiant, a film and television production and distribution company. He produced and starred in the film "I Woke Up Early the Day I Died" (1997) for which he was awarded Best Movie and Best Actor at the B-Movie Film Festival.
Zane acted alongside American star Ryan Gosling in "The Believer" (2001) as well, an award-winning film from the Sundance Film Festival based on the true story of a 1960s KKK member who was revealed to be Jewish. Zane also starred in the Turkish film "Valley of The Wolves: Iraq" (2006).
The actor and director has also dabbled in voice acting, playing John Rolfe in Disney's "Pocahontas II: Journey to a New World" (1998). He made his first television appearance in "Brotherhood of Justice" in 1987, later acting in David Lynch's iconic mystery horror series "Twin Peaks" (1990), the western film "Tombstone" (1993), the satirical comedy film "The Silence of the Hams" (1994), and the horror film "Demon Knight" (1995).
Egypt Independent recently sat down with Zane to discuss his experience at the festival so far, the importance of independent distribution for Egyptian films and his views on the Arab cinema scene. The conversation also touched on the actor's experiences shooting Titanic in 1997, as well as Zane's favorite Egyptian artist and exclusive details on his upcoming project.
How is your visit to Egypt going so far?
I am so grateful for those who organized it, the gracious and generous hosts of the International Cairo Film Festival as well as Enigma Magazine who threw an amazing party last night. I am also grateful for my Egyptian friend Ahmed Shabana who organized some great meetings. There is no better way to enter a city than to be honored.
What are the other Arab countries that you have visited before?
In the region, I have been to Dubai, Abu Dhabi, Turkey, Morocco, Tunisia.
What do you like the most about your participation in the 41st edition of the CIFF?
I really wish I could have (more) time to actually (participate), like watching some of the films and exchanging opinions with others. I can shed some light on distribution, for instance, of Egyptian films in the United States, which I think is really important. You want your film to be seen out of your community. There are great stories that are universal.
How could independent distribution in particular be fruitful for Egyptian films?
I was speaking to the head of the festival last night and said to him: When you think about your movies and funding them, the most beautiful thing in this particular process is that you don't go to festivals and look for someone to buy your film and pays you ten cents on the dollar and you never know what it is going to spend or how they are released. In this case (independent distribution), you are the distributor (and) you see (the process in a) transparent (way). So you spend a fraction but you get 30 screens or maybe five screens or maybe you can figure how you want to roll out your film. The recommendation is you integrate this into your production budget — by raising your budget, you can raise it a little bit more and then you work with cultural centers. One movie's success in this space helps many that would follow. You don't have to think that you have to cut through the noise… you can manifest a presence that becomes an interesting threshold for Netflix or all the (other) platforms and then pay a higher premium for your movie and buy. It is like you pay for the play (and) you pay for the visibility, but the benefits domestically and internationally are that much more favorable. I am going to share some of these chats that I had with him last night and make introductions in LA in addition to any other filmmakers who come over. So that's something that I would love to share.
To what extent would you be interested in Arab collaboration in acting or production projects?
To every extent, it would be great to help with that. I am not just interested to read something but I am interested in the science of the process like what would be the best use of a cross-cultural story that addresses issues in a way that could…shine a light or balance the plain feel of the narrative on assumptions that the west have. I am really looking at the human experience. Everyone needs work here (and) fundamentally we are all sharing the issue of the environment right now. For example, air quality, clear water — these issues are a great culture story about a common enemy.
Is there a specific topic that you would like to tackle in a movie from the Arab world or Egypt in particular?
I was doing some research and saw the impact of "Cairo 678" (2010). I read about it, (and) it came up in a conversation because there is a march in Paris calling for women's rights. This was critical and this theme is at the foundation of a lot, even the economic (issues). It is about the boys — in America we have a real crisis situation. You have a young man shooting at the schools…because they don't know how to deal with women, so this is common. This is not about just this region, because in the US there are poorly trained boys. This theme is important to me. This is the medicine — you should not look at the symptom but at the cause. We can look at the global social movement #Metoo that deals with protecting women. Yesterday, I was with a woman who created an incredible organization that protected women during the revolution in Egypt. It is incredible — they employed volunteers (and) women and men came to be bodyguards to protect the girls. It is not just an issue here; it is a global flow of the human experience. Also, the most important themes are archeology and women's empowerment and protection, but I go back to the foundation, to the cause, which is these boys — those who experience violence or exercise it. You have to go to the core (and) you have to heal the wounded or stop the mistreatment of these boys who (then) grown up to mistreat (others). You think I am talking about Egypt, (but) I am also talking about Ohio. It is everywhere. Every week we have a teenage boy…acting out violently. These are the issues I'd like to see addressed in cinema, because it is the place where we can find a road map out of it.
How do you view the current Arab cinematic scene?
I can see great stories and storytellers as well. There is the function of an artist who helps you access whatever is going on inside you, your empathy and your internal world. You have a rich history (as well) — you have been making this before anyone.
Do you have any Egyptian examples on your mind?
Youssef Chahine is a legend. I love the story he did about the train station — the dramatic character of a man who is being rejected by women, in a terrible way. This story is still needed to be told today. We're still doing something like that in Hollywood (and) it is interesting. I see films that can never be seen in America, and they are so profound and beautifully shot — profoundly made and profoundly acted. Speaking of distribution, it will be really great to facilitate the distribution of these films in the west because I think there are mirrors and windows into culture that goes beyond a news cycle. That won't be just news gathering or a narrow focus on that news, it will be a window (into) that culture.
What are the changes occurring now in Hollywood?
We are now in a delivery system so you are looking at a new platform that is offering a high budget, a short form, serialized content and telling stories in digestible packets with great production.
What are the most significant memories that you can remember from your acting experience in Titanic?
Just how humbled i was by this scope (and) the fact that they had hired people who had never worked before like civil engineers who built infrastructure. They built Titanic to make this movie and sank the front-in in real time — imperfect science and unproven science being created in real rime at the cost of billions and much more. No one before had done anything like it. So it was a moonshot — it was a like a Nasa mission.
Tell us about your upcoming projects.
I am producing a film about Marlon Brando based on the memoir of an architect that he hired in 1969, and there is a very specific purity in his life. I love it because it is about Brando the social activist and it is a bit of a comedy. It is about Brando the champion who called for environmental rights and his genius insights — no one was thinking that way in the 60s.