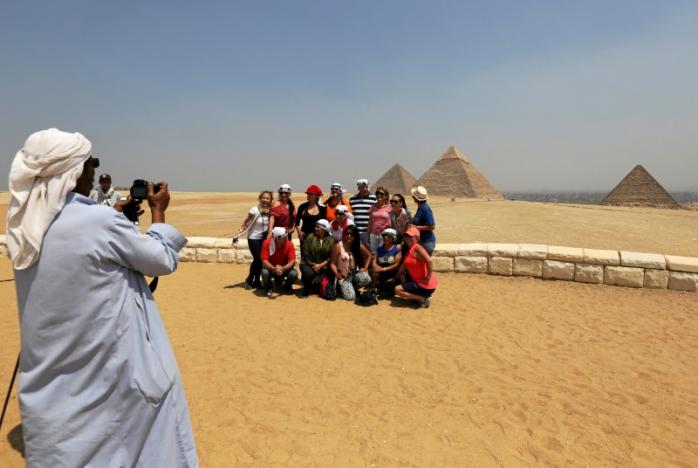 The number of tourists arriving in Egypt rose 51 percent year-on-year in the first four months of 2017, with an expected "significant increase" starting this winter, chairman of the Tourism Promotion Authority Hisham El-Demery said in a press statement on Wednesday.
The latest promotional tourism campaign, which was launched in September in 2016 in 11 countries and is still ongoing, has extensively improved tourism, Demery said, adding that $19 million were spent on the campaign in 2016, while in 2017 $9 million have been spent so far.
The campaign has played a crucial role in improving Egypt's image abroad, leading to the recent lifting of the flight bans imposed by many of the main European markets for tourism to Sharm El-Sheikh, hit hard after the crash of a Russian passenger flight in Sinai in October 2015, Demery said.
Arrivals from Ukraine and Poland more than doubled in 2017 compared to last year; while German arrivals increased by 50% year-on-year; Italian visitors by 30 percent; and British tourists by 20 percent, the statement added.
Last week, a number of tourism sector representatives, including Chairman of the Red Sea Tourism Investment Association Kamel Abu Ali, have submitted their resignation to the Supreme Tourism Council, in protest over what they see as the sector's lack of a clear vision to save the country's ailing tourism industry.
"It's not about Russia or Britain anymore. The sector is in need of structural reform and communication. The Minister has to find ways to collaborate with all the sector's entities to be able to successfully tract investors and target the problems mentioned," Abu Ali told Egypt Independent.
Representatives from the tourism sector, including delegates for foreign tourism, hotels, religious tourism, tourism establishments and diving, met last week to discuss the condition of Egypt's tourism in the recent months.
Following the meeting, they released a statement which called for the sacking of Egypt's Minister of Tourism, Yehia Rashed. They claimed Rashed's policies are the reasons behind Egypt's tourism being in a "poor condition".
"What is happening now on the part of the Minister of Tourism has become a major threat and puts the entirety of the Egyptian tourism system on the verge of collapse, which is a great loss to Egypt's economy," read their statement.
Egypt said earlier this year it was confident that it could lure back millions of foreign visitors after the sector was heavily hit.
Tourism revenues dropped to $3.4 billion in 2016, a 44.3 percent decline from the previous year.
Rashed said in March that the number of tourists visiting Egypt this year could come close to levels seen before its 2011 uprising, encouraged by investments in airport security and a cheaper Egyptian pound.