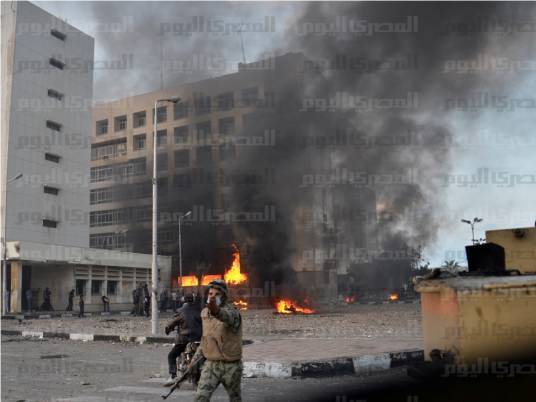 In its most recent wave of violence, the Suez Canal city of Port Said has been gripped by its second day of bloody clashes, as onlookers and participants continue to search for the instigators.
As of Monday, the most recent round of clashes has left 500 injured and at least 5 dead — including two civilian protesters and three conscripts from the Central Security Forces.
Fingers were pointed and accusations flew on Monday as street battles raged and fires partially engulfed the Port Said Security Directorate and governorate headquarters, while three of the army's armored personnel carriers were attacked and then abandoned.
On Sunday evening, the Defense Ministry denied media reports claiming that clashes had taken place between its forces and the police in Port Said. Meanwhile, the Interior Ministry claimed Monday evening that unidentified provocateurs are attacking both the police and Armed Forces in order to sow discord amongst Egypt's security forces.
Photos and videos taken from the city's central Martyrs Square appear to show police and army troops opening fire on each other, yet both the Interior and Defense Ministries have denied that their forces are fighting one another.
"Very clear and open fire-fights are taking place between police and Armed Forces" said Mohamed Zakareya, Secretary of the Popular Socialist Alliance Party in Port Said.
"There are no outsiders, and there is no so-called 'third party' involved in these clashes. These are baseless claims," he added, saying that he had personally witnessed the armed confrontations around Martyrs Square.
Zakareya added, "It is evident to anyone who has witnessed the events around Martyrs Square that it is the police forces — consisting of uniformed CSF troops, plain-clothed police along with their armored trucks — who are attacking the protesters and the Armed Forces in the square."
According to Zakareya, the clashes between the police and army began on Sunday evening and lasted for around two hours "after residents had called on the Armed Forces to step in and protect them from the police's relentless attacks."
At least 40 civilians are reported to have been killed by police forces since a controversial court verdict on 26 January saw 21 sentenced to death in relation to February 2012's Port Said Stadium disaster. The most recent bout of violence began late Saturday night/early Sunday morning when police transported the defendants out of the city — ahead of a court verdict on 9 March — under cover of darkness.
"Today police forces fired tear gas canisters into three APCs belonging to the Armed Forces, and a number of soldiers in these vehicles were rushed to hospital after suffering from severe tear gas inhalation," said Zakareya.
He added, "The police are now opening fire randomly and without distinction in the direction of protesters and Armed Forces."
Zakareya further claimed that it was the "police tear gas canisters that led to the fires in the governorate building."
"Police are clearly involved in the killings, and abuse of civilians: And now they're even attacking the army. The police are the ones destabilizing the country, just like they have done since the onset of this revolution."
Al-Masry Al-Youm journalist and eyewitness Hamdy Gomaa agreed with Zakareya that the police and Armed Forces were engaged in firefights with one another around Martyrs Square. However, Gomaa claimed that "the fires in the governorate Headquarters and the security directorate were most likely lit by protesters' Molotovs."
Gomaa explained, "the army has been deployed outside the governorate building, which directly overlooks martyrs Square, since January 26. Ever since then they've been tear-gassed along with the protesters around this central square."
The journalist explained that the armed confrontations between the police and army started on Sunday after police forces fired a tear gas canister directly at an army officer's stomach.
According to both Gomaa and Zakareya, this assault led the army to open fire with machine guns — shooting first in the air, and then at the police.
Gomaa stated that by Monday evening "53 injuries were reported — nine of which are injuries from birdshot."
Both Gomaa and Zakareya pointed out that police were using not only tear gas in attempt to disperse protesters, but also birdshot. Media reports also mention that police forces resorted to throwing rocks and chunks of marble at protesters from the rooftops of government buildings.
Police reports mention that 88 "trouble makers" were arrested in Port Said in light of these clashes on Monday. Interior Minister Mohamed Ibrahim claimed that police forces do not stand against protesters, but rather against those wreaking havoc.
Port Said is witnessing on a city-wide campaign of civil disobedience that started on 16 February. Since then, opposition protesteres within Port Said have declared nominal independence from the Morsy regime and the Muslim Brotherhood-ruled state.
New flags of the "Independent Republic of Port Said" have been seen fluttering in some parts of the city, while a few "civilian police" vehicles have also been seen patrolling the city.
Port Said's campaign of civil disobedience appears to be spreading to a limited extent to other cities along the Suez Canal and in the Nile Delta.