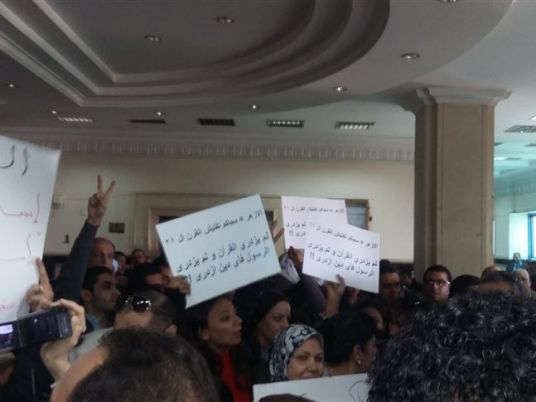 Fans of Islam Beheiry protested outside the South Cairo Court on Monday as the court considered a challenge by the media host, who was sentenced to one year in prison over blasphemy charges.
Beheiry was initially sentenced to five years over the charge that was later brought down to one year.
The protesters hoisted banners attacking Al-Azhar, Egypt and the Arab World's top Islamic academy, whose request had prompted AlKahera wal Nas to halt the airing of Beheiry's controversial show last year.
The show mainly focused on challenging the credibility of the narrators of Prophet Muhammad's "Hadiths"' (quoted teachings), most specifically Imam al-Bukhari (810-870 AD), an almost unquestioned scholar in hadith narration.
Beheiry said in earlier statements that he was facing more than 40 lawsuits relating to his program.
"Al-Azhar vigilantes of the 20th century", "Islam did not insult the Quran or the Prophet", read banners being held up by the demonstrators.
"President Abdel Fattah al-Sisi has, more than once, urged a change to religious discourse and talked about religious reform," said Marwa Khalifa, one of the protesters. "This is at odds with confining and sentencing religious modernists like Beheiry," she said.
Edited translation from Al-Masry Al-Youm