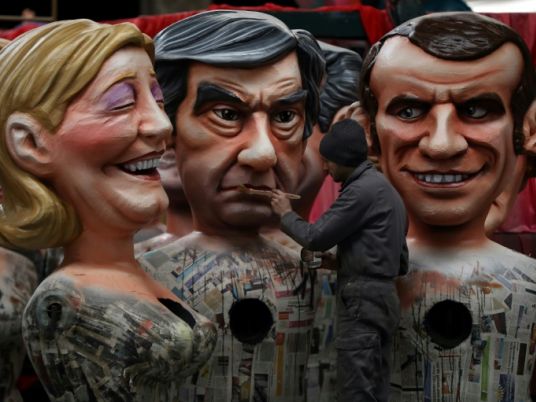 Far-left candidate Jean-Luc Melenchon is threatening to turn France's presidential election into a four-way race, the latest opinion polls show, confirming a surge of support for him after a strong showing in a TV debate this week.
Two polls conducted after a televised debate among candidates on Tuesday night showed the 65-year-old Communist party-backed candidate just a percentage point or two behind third-placed conservative Francois Fillon in an unpredictable contest in which over a third of voters are still undecided.
A Harris Interactive poll published on Thursday showed centrist Emmanuel Macron holding onto a narrow first round lead over far-right leader Marine Le Pen, with the two frontrunners on 25 and 24 percent respectively.
The two-stage election will be held on April 23 and May 7.
With just over two weeks to go until voting starts, the big move, however, was the surge by Melenchon, a veteran campaigner of the far left.
Intentions to vote for him climbed to 17 percent in the first round, up from 13.5 percent two weeks ago, while Fillon, whose campaign has struggled as he faced nepotism allegations, saw his score hold steady at 18 percent.
A separate Elabe poll published on Wednesday evening showed Melenchon up 2 points on a week ago, also at 17 percent, and also narrowing the gap with Fillon, who was up 1 point at 19 percent. It had Le Pen and Macron on 23.5 percent each.
Both polls showed Macron beating Le Pen comfortably in the second round.
A political showman who excoriates establishment politicians with his rapid-fire discourse, Melenchon was seen by pollsters as the most convincing performer in the four-hour TV debate on Tuesday night that was watched by more than 6 million people.
He clashed with Le Pen during the debate over her focus on the tensions created by religion in politics, but his policies advocating greater worker protection, and his hostility to the European Union in its current form, are similar to hers.
He would also pull France out of NATO and called during the debate for the debt of troubled euro zone states to be effectively written off to allow massive new investment to spur growth.
Founder of the "France Unbowed" party, he has split the left-wing vote and turned the Socialists into also-rans after five years of rule by Socialist President Francois Hollande marked by high unemployment and low economic growth.
Pollsters say Melenchon is gaining votes from Hamon, who is struggling to stay above a 10 percent rating in the polls, but he is also getting votes from further afield.
Gianni Pierson, 38, from the staunchly conservative town of Provins where Fillon campaigned on Wednesday, had traditionally voted on the right, and plumped for ex-president Nicolas Sarkozy at the last election in 2012.
Partly as a result of losing his job as a salesman, he has turned more to the left – first Hamon, but now, he told Reuters, "almost made my choice for Melenchon" after being inspired by his performance in debates.
In a potential boost for Hamon though, Socialist Finance Minister Michel Sapin confirmed on Thursday that he would vote for the party's official candidate.
Some other senior Socialists, including Jean-Yves Le Drian have jumped ship to join Macron.
The 29-year-old ex-banker was until 2016 a minister on the Socialist government, but is running as an independent having formed his own political movement called En Marche! (Onwards!)
Writing by Andrew Callus; Editing by Richard Balmforth; Reuters