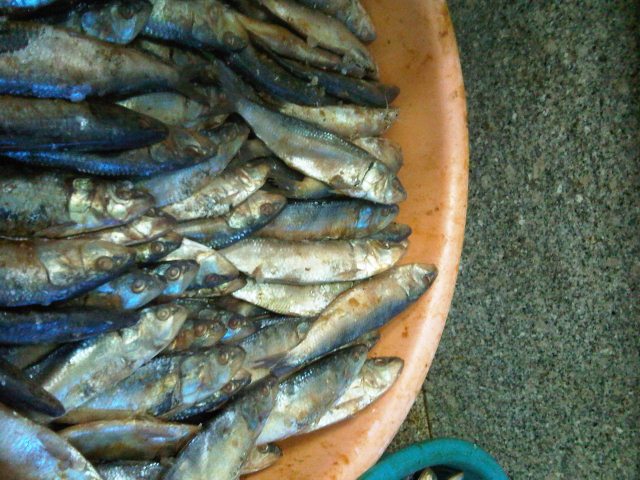 Just across the street from Sayeda Zeinab Mosque in Old Cairo, your nose will detect before your eyes the small shop of Shaheen, which sells all types of salted fish, such as fesikh, salted herring and melouha.
Surrounded by the fish's strong aroma, which colonizes the place, Shady Mohamed Shaheen, the grandchild of Hajj Shaheen, owner of the shop, proudly explains the delicate process of preparing fesikh, the central dish of Egypt's spring celebration, Sham al-Nessim.
"It is an art," Shady says, pointing to the different fish containers. "It is a sacred secret we have passed from one generation to the other since our establishment in 1966, originally in Bab al-Louq, downtown."
Shady explains the different phases of the preserving process. He assures that it all starts with the selection of a good fish.
"The best fesikh is made of grey mullet fish from either Bardawil Lake, or from Kafr al-Sheikh Governorate, and then left out in containers until distended. When it is sufficiently putrefied, salt is added and the fish are left to pickle for at least 40 days."
Although being a widely celebrated occasion nationwide, Shady complained of slow business this year caused by the revolution and a foot-and-mouth disease outbreak that substantially elevated the prices of fish.
"We are used to the pressure on the night before the celebrations," he said with a laugh. "Egyptians love last-minute things."
Health officials on alert
Despite annual warnings by health officials against the dangers of fesikh and reports of tons of contaminated fish discovered in the markets, most Egyptians insist that fesikh is irreplaceable for Sham al-Nessim.
In preparation for this year's Sham al-Nessim celebrations, Cairo Governor Abdel Qawy Khalifa issued orders to tighten control over fesikh samples collected from Cairo markets that serve fesikh and other similar salted fish. He also announced the creation of a 48-hour emergency room before the holiday to make sure people receive poisoning treatment and a high distribution of vaccines at reduced cost.
As a result of an increasing number of high-profile food poisoning cases during the late 1990s, the government adopted a new strategy of monitoring and inspecting food, becoming more involved in checking fesikh.
Dr. Suad Kholy, head of the Veterinary Medicine Directorate, told Egypt Independent that authorities impounded about 8 tons of spoiled fish inside Cairo after a joint inspection by her directorate and the Health Ministry.
"The ministry had set up a 24/7 hotline to receive any reports or complaints from citizens in case of irregularities. We need active citizens to help us curb the number contaminated fish," Kholy said.
A 4,500-year-old celebration
United under a set menu of highly aromatic food, Muslims and Christians, rich and poor, all eat fesikh — along with scallions, lettuce, Lupini Beans and colored boiled eggs — as a national meal celebrating one of the oldest festivals in the world.
Dr. Hussan Mohamed, professor of pharaonic history at Ain Shams University, told Egypt Independent that the history of Sham al-Nessim started more than 4,500 years ago.
"This festival is as old as Egypt itself. Ancient Egyptians celebrated a date in spring when day and night become equal in length, which represented the beginning of creation. But when Christianity entered Egypt, this day was linked with Coptic Easter, falling immediately on the first Monday following it," Mohamed said.
Mohamed explained that ancient rituals were similar to what Egyptians practice nowadays, especially with food, which all packed by different myths. Fesikh on that day had meaning, and it was believed that offering fish to the ancient gods would ensure a good harvest. Salted fish especially symbolized fertility and welfare.
Some foreign traditions increasingly have become part of the day's celebrations, with chocolate bunnies, special cakes and colored eggs substituting the heavy Egyptian meals. Although being an official holiday nationally, some people don't celebrate and confuse it with Easter, because the two are linked.
"It is a Christian festival — that is what I know about it. It is the day when Jesus was crucified," said Mennatallah Abdel Rahman, a 27-year-old nurse.
But on Sham al-Nessim, millions of Egyptians of all ages flock the streets to enjoy outdoor activities, either occupying public gardens or taking a felucca to enjoy the fantastic view of the Nile while eating their salty delicacies of fesikh and onion.
Fesikh is not the only type of salted fish that is served. Melouha and salted herring are rising as strong competitors to fesikh because they are a less expensive option.
But with a dish that Egyptians might literally die for, most health experts ask people to seek less hazardous options, such as tuna or herring, because eating salted fish is dangerous for people with high blood pressure and might be extremely poisonous if tainted by botulism.
The botulinum toxin is the most potent of all toxins known in nature, but does not withstand heat or prolonged exposure to oxygen, so poisoning generally occurs when the products are put in glass jar or canister with too few precautions.
Manal Magdy, a 43-year-old housewife, told Egypt Independent that she had dropped fesikh from her menu.
"I don't trust our government's inspections — every year we hear about a dozen cases of poisoning. I personally buy just herring to celebrate this traditional day," Magdy said.
Adel Waguih, an engineering student, said he doesn't care so much about the story behind the day or the traditional unhealthy dishes.
"To me it is a good excuse for a needed vacation, and a good opportunity for friends gathering outdoors," Waguih told Egypt Independent.
"I advise you to celebrate it well this year as it might be the last time before it gets canceled next year, if Islamists take over," he added jokingly.
However, Shady of the Shaheen shop downplayed the dangers of such fish, stating that getting fesikh from a trusted source is the key.
"Egyptians have been eating this dish for thousands of years now. The poisoning cases are very few and can happen from any other dish," he said.