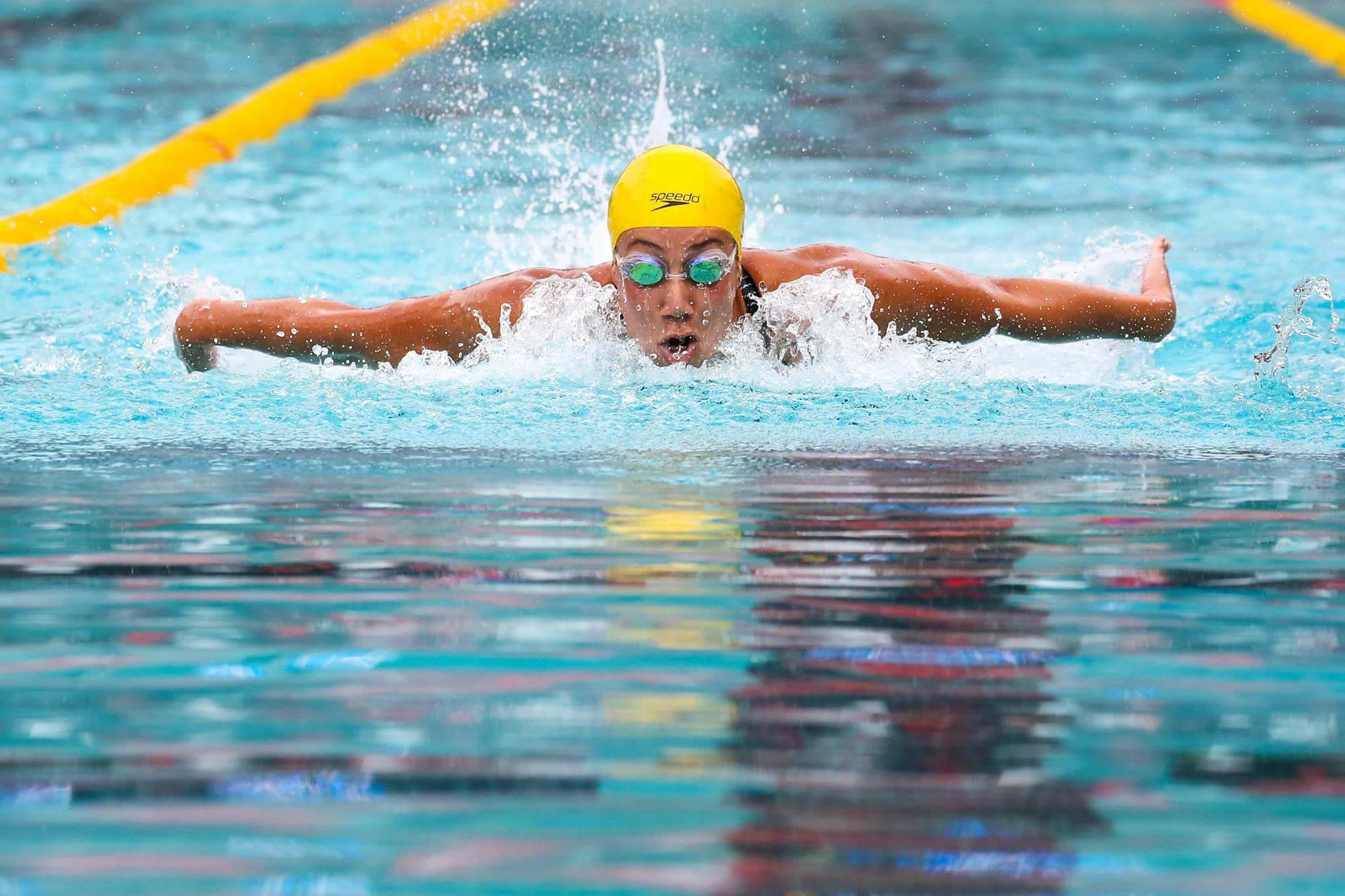 Farida Osman broke Egyptian athletic records when she won the bronze medal in the women's 50m butterfly final on Saturday at the FINA Swimming World Championships, becoming the first Egyptian to score a medal of any color in the competition.
The 22-year-old competitive swimmer attained third place in the 50m butterfly in a time of 25.39 — only 0.01 seconds apart from silver winner Ranomi Kromowidjojo (the Netherlands), while the gold was claimed by Sarah Sjoestroem (Sweden).
Al-Masry Al-Youm interviewed Osman by telephone shortly after the competition:
■ Congratulations on winning the bronze medal and making a historic achievement.
"Thank God for the great achievement that has not happened before in the history of Egyptian swimming. Egyptian swimming has become world class, especially with the Egyptian team participating in the tournament with 12 players — most of them whom qualified to the semi-finals! This was not easy, as the world champions are always from developed countries of technology, especially as the competition is expensive and requires unique abilities."
■ Al-Masry Al-Youm hosted you after the last World Aquatics Championships in Russia, where you finished in fifth-place, and you said that our next interview would be to honor you after winning a medal. What is the secret behind this confidence?
"I have been training since the age of 15, and whenever I enter a championship I always aim to win a medal and improve my records, whether in the butterfly 50 and 100 meters, or in the 50 and 100 meters freestyle. After I took fifth-place in the previous FINA Swimming World Championship, I swore I would not give up on my dream of winning a medal. Thank God, my dream came true!"
■ Why do you choose short-distance swimming, despite the fact that Egypt is famous for long-distance?
"Short-distance swimming is very difficult because competitors are milliseconds apart, so any mistake will mean getting a late position; I won third-place at 25.39s, missing the silver by 0.01s to Ranomi Kromowidjojo."
■ What was the most difficult situation during the tournament?
"Two years' preparation for the tournament was about to be lost in one moment when I discovered my swimsuit had torn right before I was to compete, which could have disqualified me from the competition! I imagined myself having to apologize for not participating because of the swimsuit, but luckily remembered that I had brought a spare."
■ How long is your average daily training?
"I do 10 training units per week, equivalent to 30 hours, especially before important tournaments. Thank God, the more effort I make in training the more I achieve."
■ Who has been the most supportive throughout your career?
"My mother and brother have been through a lot with me. I have felt that some people do not want me to succeed, but my family has always stood by me and helped me overcome hardships, including living alone in the US and depriving myself from a normal social life to train for 30 hours every week."
■ Is education in Egypt a barrier to athletic excellence?
"This is a fact. The method of studying in Egypt is hostile and does not foster the making of Olympic champions, unlike European countries — which are very interested in university sports because they are the first source of Olympic champions. When I applied for a scholarship in the US, I was accepted to the team of the university, where I trained daily learned team spirit; the goal is to make an achievement that is registered in the name of the university, and not for you in person. I hope that this notion will be applied in Egypt, and that the education system there is reviewed."
■ Why did you insist on having the US team's coach with you in the World Cup?
"I'm used to her style and training method. She volunteered, and the Egyptian Swimming Federation (ESF) paid for travel expenses and accommodation. She wore the Egyptian team t-shirt as an indication that sport is a means of bringing people together, and as a message to the American people to visit Egypt."
■ What reception do you expect when you arrive in Cairo on Tuesday morning?
"[laughing] My mother and brother insisted on accompanying me in the tournament to encourage me, and I wish for us to be honored with a great reception at the airport because these things remain immortal in the memory of stars, and a motivation for them. Apart from the airport, I hope to have the honor to meet President Abdel Fattah al-Sisi, as this happened with my colleague athletes."
■ What would you ask President al-Sisi if you met him?
"[I would ask] to amend the current education system to be more accommodating of athletes, not an obstacle. In the US, grants are given to athletes and sport is part of the educational system, which contributes to the making of champions."
■ What are your ambitions for the Olympics?
"I hope that I will achieve my dream of winning an Olympic medal in Tokyo, given my records improve from when I participated in the Rio de Janeiro Olympics. I would like to thank Yasser Idris, the president of the Egyptian Swimming Federation (ESF), the board of directors, the coaches and my teammates for their support. I promise to do my best to raise the name of Egypt in international forums."
Edited translation from Al-Masry Al-Youm