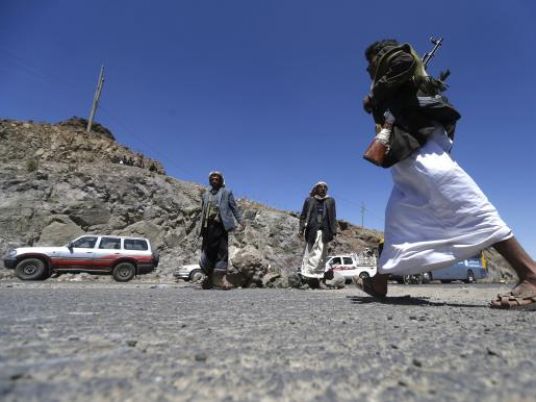 Supporters of Yemeni President Abd-Rabbu Mansour Hadi seized Aden's international airport on Thursday after battles with rival forces that left at least six people dead, a local official and medics said.
Hadi's troops deployed tanks and armoured vehicles in this southern port city against heavily armed special forces loyal to former President Ali Abdullah Saleh, an ally of the Houthi movement that controls northern Yemen.
The rise to power of the Iran-backed Houthis since September last year has deepened divisions in Yemen's complex web of political and religious allegiances, split the army and left the country increasingly cut off from the outside world.
The fighting around a special forces base in the Khor Maksar district of Aden spread to residential districts and prompted roads to the nearby airport to be closed.
Airport authorities cancelled at least one flight after shooting started early in the morning, where members of the so-called Popular Committees, a local militia loyal to Hadi, was in a standoff with the special forces loyal to Saleh.
A local official said the militiamen, backed by regular troops deployed from a nearby army camp that had sided with Hadi, secured control of the airport by midday.
A local security official and medics said four special forces soldiers and two militiamen died in the clashes. There were a number of injuries, but no exact figures were immediately available.
Residents in Crater and al-Ma'asheeq district, which are considered the heart Aden's commercial district, said Popular Committee fighters had been seen taking up positions, but there were no reports of fighting there.
Power struggle
The growing instability in Aden has overshadowed a vigorous campaign of attacks by al Qaeda, long seen by Washington as the main threat to the country, which shares a long border with the world's top oil exporter, Saudi Arabia.
The Sunni Muslim Islamist group late last year began shifting the focus of its fight onto the Houthis, whom it sees as heretics, after the Shia Muslim movement captured territory beyond the Yemen capital Sanaa.
Tensions have been heightened in Aden since Hadi fled there in February after escaping a month of house arrest in Sanaa by Houthi forces who seized Sanaa last September.
Hadi has been trying to consolidate his control over Aden, sacking of the commander of the city's garrison, General Abdel-Hafez al-Saqqaf, and replacing him with one of his officers. Saqqaf, however, has refused to hand over command of the force, estimated at between 1,500-2,000 troops.
On Thursday, al Qaeda's local wing claimed responsibility for a drive-by shooting of Abdel Karim al-Khaiwani, a prominent journalist who is affiliated with the Shia Muslim group, according to its Twitter account.