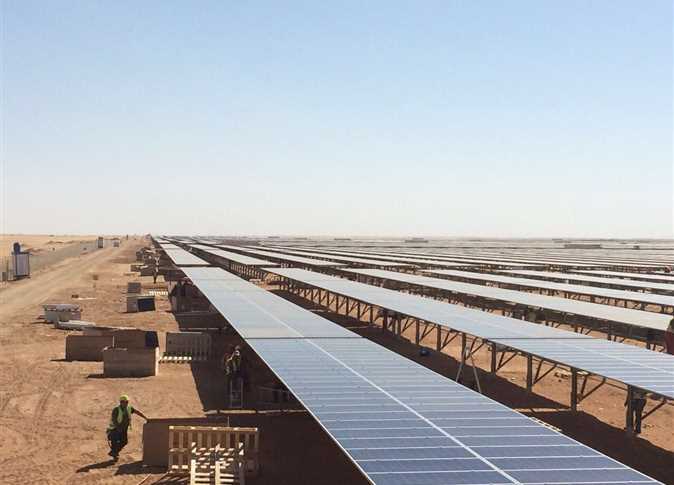 Minister of Military Production Mohamed al-Assar on Monday inaugurated the Egyptian-Chinese Joint lab for New and Renewable Energy, at the headquarters of the South Upper Egypt Regional Development Center of the Academy of Scientific Research in Sohag City, with a total investment of more than LE42 million.
The establishment is designed to be a research laboratory, and at the same time serves as a model for an industrial production line for the manufacturing of silicon solar cells for the first time in Egypt and the Arab region, becoming a center for research and training for this technology in Egypt, the Arab region and Africa.
The lab has a production capacity of 750 kW / year. Assar said that the factory is a strong addition to Egypt and to Upper Egypt in particular, pointing out that Egypt is interested in new and renewable energy especially electrical.
He said that "The President (Abdel Fattah al-Sisi) commissioned us to establish a factory for the production of solar electric cells, and we are in the process of signing a cooperation protocol with a Chinese company to produce solar cells with a capacity of one GW".
The Minister of Higher Education and Scientific Research Khaled Abdel-Ghaffar said "Today is a testament to the Egyptian-Chinese strategic friendship in various fields, and the opening of the plant as a result of continuous activity since 2014".
He stressed on the project's importance as the whole world is now turning to sustainable energy sources, and Egypt as well has its own plan in the future within the fields of energy, where sustainable energy occupies 20 percent of the plan for new and renewable energy until 2022, and by 2035 up to 40 percent.
Establishing such a laboratory is in line with the state policy to develop the solar energy industry and the transfer of technology, he added, along with preparing cadres through training courses to serve Egypt and Arab countries as well.
The President of the Scientific Research Academy said that the volume of investments for the establishment of the plant reached more than LE42 million, of which LE30 million from the Egyptian government, in addition to funding from the Chinese Ministry of Scientific Research amounted to LE 750,000 dollars.
The opening ceremony was attended by Ghaffar, Sohag Governor Ahmed al-Ansari, Chinese Cultural Advisor Tong Wei, and President of the Scientific Research Academy Mahmoud Sakr.
Edited translation from Al-Masry Al-Youm