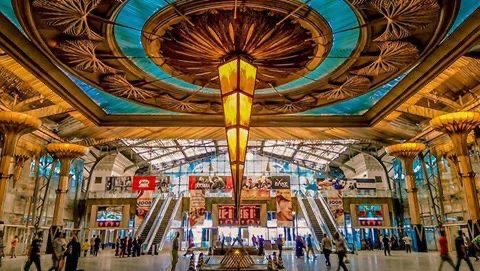 Chairman of the Board of Directors of the National Railways Authority, Mohamed Amer, inaugurated the first phase of the project to install a solar energy station above Misr Station in Cairo.
The phase is within the framework of implementing a cooperation protocol that the authority signed between the Industrial Modernization Center and the Ministry of Electricity and Renewable Energy.
This is an integrated project for solar cell systems connected to the electrical grid and improving lighting systems for the Misr Station, funded by a grant from the United Nations Development Program.
The project is divided into three phases.
The first phase has been completed on the roof of the concrete building of Misr Station in Cairo and the mosque adjacent to the station with a capacity of 311 kilowatts, estimated at 479,469 kilo/hour annually.
The cost of the first phase is LE3,584,704, and will save approximately LE600,000 annually.
The solar power station contributes to reducing carbon dioxide emissions by 276 tons annually, which is equivalent to planting 11,500 trees annually, in addition to that the life span of the station is 25 years, saving approximately LE15 million during this period.
The station will cover its construction costs within six years at the latest.
The implementation of the second phase will start by implementing a corrugated sheet roof on top of the roof of the Misr t in Cairo with a capacity of 471 kilowatts and at a cost of LE6,590,000, estimated at 722,000 kWh annually. It will save approximately LE900,000 annually.
The third phase includes the roof of the financial administration buildings, the railway complex, the railway engineering building, and the printing press, at a capacity of 326 kilowatts and a cost of LE4,594,000, estimated at 500,000 kWh annually, saving approximately LE625,000 annually. The project is planned to be generalized to the main buildings and other stations of the authority.