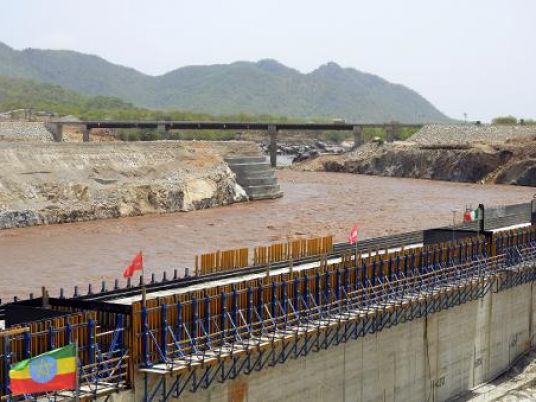 The Ministry of Water Resources and Irrigation said on Wednesday that water abundance seen in front of the Renaissance Dam is due to the high level of construction in the dam, which led to the formation of a lake, as the amount of water flooding exceeds the drainage, and will not affect Egypt's water security level.
"The Blue Nile flood is known to last from June until the end of September each year.
The river receives great inflow of water and then later on in the year the flow drops," Hossam al-Imam, spokesperson for the Ministry of Water Resources and Irrigation said in a statement.
He reiterated that the quantities of water present in that lake do not represent any damage to Egypt's water quota.
Egypt fears the dam will affect its historic Nile water share of 55 billion square meters, which it has had access to since the historic 1959 agreement with Sudan.
Ethiopia, meanwhile, has reassured Cairo that its water share will not be affected.
In 2011, Ethiopia started construction on the Renaissance Dam over the Blue Nile River, one of the major sources of the water that forms the River Nile downstream.
The dam is expected to be ready in 2017.
Ethiopians see it as is a great national project and a means of overcoming poverty.
Earlier in June, the Egyptian Foreign Affairs Ministry official spokesperson Ahmed Abu Zeid asserted that Egypt's water security is non-negotiable, saying that it is considered a red line that no one can approach.
When completed, the dam will be the largest hydroelectric power plant in Africa, and one of the largest of its kind in the world. It was estimated in 2016 that the process of filling the dam with water (approximately 74 billion cubic meters) may take between five to 15 years.
According to global calculators of water scarcity, Egypt is already classified as being a water-stressed country, while Ethiopia is classified as being on the brink of water stress.