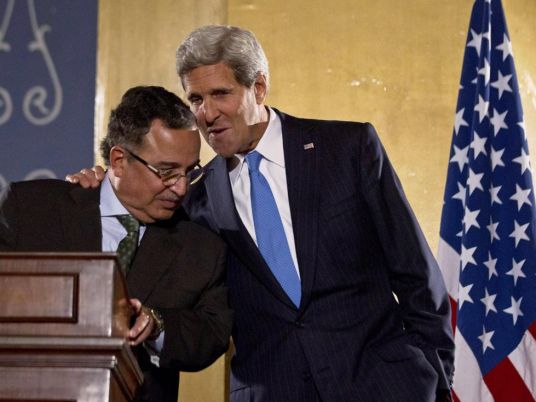 The US National Public Radio published a recording on its website of Foreign Minister Nabil Fahmy, in which he said that the relationship beween Egypt and the US is like a "marriage. It is not a fling."
The interviewer asked Fahmy whether the political importance of the US military aid was at least as important as the tactical advantage. "Yes, of course it is that important because it is like a marriage. It is not a fling," Fahmy responded.
"This is something, if you're going to invest in it, it's going to cost you a lot of money, it's going to take time, and you're going to have to make a lot of decisions," Fahmy continued. "The US-Egyptian relation is well-founded but needs to stabilize and has its hiccups. But any marriage has its hiccups," Fahmy added.
Fahmy has been touring the US, defending the actions of the interim government, who ousted Egypt's first democratically-elected president Mohamed Morsy. The US has been particularly critical of the latest mass trial, where almost 700 people were sentenced to death.
The Egyptian foreign minister assured critics that the judiciary is independent and is not being used a tool to oppress the political opposition. He also stressed that journalists are free in Egypt to report on whatever they please, yet he stressed he can not be involved in the judicial cases, who must be left to decide without external pressure.