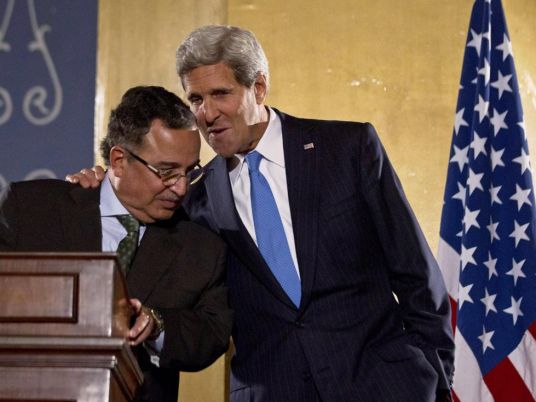 Foreign Minister Nabil Fahmy left Cairo on Thursday heading to Germany then to Washington accompanied by a delegation.
The visit is the first official one to the US since the ouster of former President Mohamed Morsy in July.
The accompanying delegation includes Badr Abdel Aaty, the ministry spokesperson, who earlier declared that Fahmy will meet with his US counterpart John Kerry to mull the bilateral political, economic and trade ties.
The two parties will brief each other over developments in the Middle East, especially the Palestinian cause, the Syrian issue, African and regional security problems, like clearing the Middle East of weapons of mass destruction, as well as international issues like reform of the United Nations and climate change.
"The minister will meet during the visit with several officials of the US administration like senior congressmen as well as group of officials of influential think tanks," the spokesperson added.
Fahmy will also meet with several US media channels to express political developments in Egypt. He will also meet with figures of the Egyptian community based in San Fransisco as well as businessmen in California to review atmosphere of investment in Egypt.
Edited translation from DPA