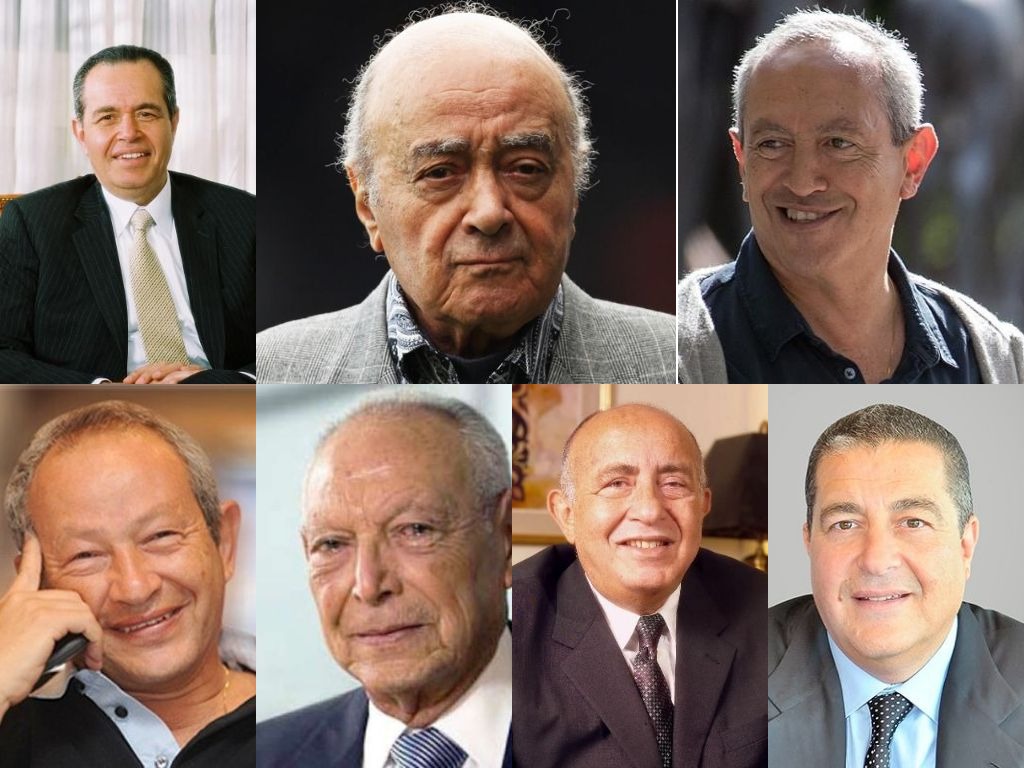 Forbes Middle East magazine has just announced their list of the World's Richest Arabs of 2017, and it includes seven of Egypt's richest billionaires.
Egyptian construction tycoon Nassef Sawiris, the youngest among the Sawiris siblings, was the first Egyptian and the fifth on the list with a total worth of $5.6bn. Nassef runs Orascom Construction Industries, one of the largest nitrogen fertilizer producers in the world. It has plants in Texas, and is building facilities in Iowa. He owns nearly 5% of cement giant LafargeHolcim, and 7 percent of Adidas. A University of Chicago graduate, he donated $20 million to the school in 2015 to establish a scholarship program named after his father, Onsi. The funds benefit Egyptian students.
The telecom mogul Naguib Sawiris, Nassef's elder brother, was the second Egyptian and the eighth on the list with $3.9 bn. Businessman Mohamed Mansour came next being ranking as the third Egyptian and the 12th on the list with $2.7 bn.
Mohamed Mansour oversees conglomerate Mansour Group, which has the sole distribution rights in Egypt for GM vehicles and Caterpillar equipment; it also has the McDonald's franchise.
Business tycoons Mohamed Al-Fayed, Yassen Mansour, Onsi Sawiris and Youssef Mansour followed on the list ranking 22nd, 22nd, 33rd,38th with a total worth of $1.8 bn, $1.8 bn, $1.2bn, and $1.1 bn respectively.
Mohamed Al Fayed's Ritz hotel in Paris reopened in June 2016 after four years of renovation at a cost of $450 million. Suites are named after one-time guests, including Coco Chanel, F. Scott Fitzgerald and the Duke and Duchess of Windsor.Followed by Yasseen Mansour, a founder and chairman of publicly-traded Palm Hills Developments, one of Egypt's biggest real estate developers. He oversees the Mansour Group along with his sibling Mohamed and Youssef.
Onsi Sawiris comes next, being the patriarch of Egypt's wealthiest family and founder of Orascom Construction Industries. Onsi still owns nearly a quarter of OCI. In 2015, OCI spun off its construction business, which now trades again on the Egyptian exchange, as well as on Nasdaq Dubai, as Orascom Construction.
Finally, Youssef Mansour owns a stake at the Mansour group. He's also responsible for the consumer goods division, which includes Egypt's largest supermarket chain, Metro, as well as tobacco brands Davidoff and Gauloises.
Saudi Prince Al-Waleed bin Talal Al-Saud topped the World's Richest 100 Arabs list with a net worth of $18.7bn, followed by UAE's Majid Al Futtaim and family who is worth $10.6 bn and Saudi businessman Mohammed Al Amoudi, who is worth $8.1 billion.
Majid Al Futtaim, who continues to open Carrefour hypermarkets across the Middle East, Asia and Africa, saw his net worth more than double to $10.6 billion. That put him in second place, knocking Mohammed Al Amoudi down a rung. Prince Alwaleed remains the richest, adding $1.5 billion to his fortune, Forbes reported.
Forbes cited that the aggregate net worth of the richest Arabs climbed by 29.2% over last year to $123.4 billion, spread among 42 billionaires. Saudi Arabia counts the most billionaires; they are also the richest: 10 have a combined net worth of $42.1 billion. The second richest are Emiratis with a total net worth of $27.3 billion. Lebanon has the highest number of billionaires per capita.
Estimates are a snapshot of wealth based on stock prices as of February 17, 2017 for the individual billionaires.