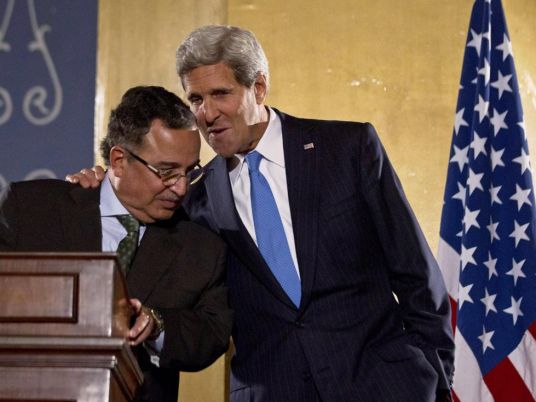 Foreign Minister Nabil Fahmy called on the United States to halt communication with the Muslim Brotherhood after the Egyptian government announced it a terrorist organization.
Fahmy said relations with Washington have become "better than they were before."
"We do not see dealing with an organization that has been named terrorist as appropriate. We (the Egyptian government) do not deal with terrorist organizations in foreign countries and both sides must respect law," Fahmy said in an exclusive interview with Sky News Arabia Channel on Tuesday.
Fahmy said he explained to members of the US Congress and administration officials, who criticized the mass death sentences issued against Muslim Brotherhood supporters, that the Egyptian judiciary is independent and has review mechanisms, part of which is the appeal proceedings.
Fahmy pointed out that he told US officials that Egypt is building a democratic system and cannot interfere with the judiciary.
Fahmy expected Egypt-US relations to be better but based on a "different equation." He explained that the issue was beyond US aid, as both countries "should proceed to a new stage where there is much more mutual respect."
In regards to the Renaissance Dam crisis, Fahmy said that there have been no serious negotiations so far, as he is waiting for a response from Ethiopian on proposals from the Egyptian government. Fahmy ruled out resorting to projects on the Congo River that would increase water supplies to Egypt, saying it is difficult from engineering and legal standpoints and cannot be a solution to the Renaissance Dam crisis.
Edited translation from MENA