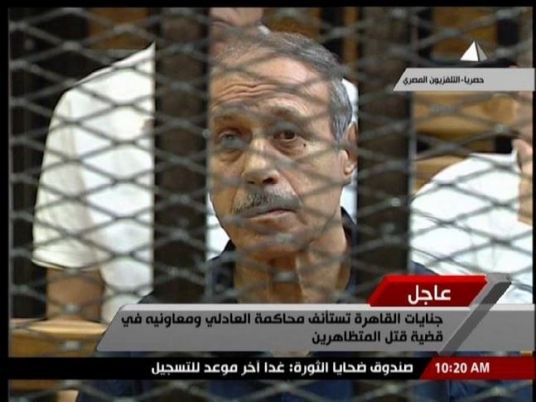 Cairo Criminal Court resumed on Tuesday retrial of deposed President Hosni Mubarak, his sons Alaa and Gamal, former Interior Minister Habib al-Adly, six former top security deputies and businessman Hussein Salem over charges of killing protesters during the 25 January revolution as well as financial corruption.
Al-Adly's lawyer, Mohamed al-Guindy, argued Tuesday that Adly ordered policemen to maintain self-restraint and use sticks and tear gas only to disperse protesters during the 25 January revolution.
"Most deaths occured while [the police] were defending police stations against attacks," Adly's lawyer claimed.
The armament of soldiers included helmets, water, and teae gas only, he added.
"The armed forces was handed over the Interior Ministry after it was emptied on 28 January in the afternoon. There were armed men who tried to attack the ministry, but the armed forces dealt with them," he said.
Major General Hassan al-Ruwainy, member of the Supreme Council of the Armed Forces, confirmed in his testimony that he had not seen any police personnel after 5pm on 28 January in Tahrir Square or surrounding streets, the lawyer added.
During the previous session on Monday, Guindy said that the referral decision to court included sentences that do not indicate to specific action by the former interior minister. "I bet any witness could confirm that Habib al-Adly ordered confronting the protesters by force, beating or killing them.
The court allowed privately-owned satellite TV channels to broadcast the retrial sessions on air without recording.
The defendants are charged with plotting to kill protesters during the 25 January revolution, spreading chaos and causing a security vacuum. Mubarak, and his two sons are also being tried over financial corruption, abuse of power and selling Egyptian gas to Israel at low prices.
More than 800 people were killed in the protests that unseated Mubarak after nearly 30 years of rule. Security officials across the republic were acquitted from similar charges.
Edited translation from Al-Masry Al-Youm