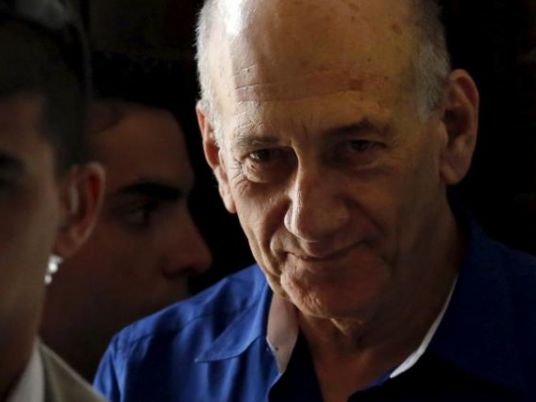 Former Israeli Prime Minister Ehud Olmert released a video statement insisting on his innocence on Monday, before arriving at prison in a motorcade to begin a 19-month sentence for corruption.
Olmert is the first former head of government in Israel to go to prison. During his premiership from 2006 to 2009, he was internationally credited with working toward a peace accord with the Palestinians, until graft scandals forced him to step down.
"As prime minister I was charged with the highest responsibility of safeguarding Israel's citizens. Today I am the one to be locked behind bars," he said in a video released to media before he pulled up at Maasiyahu prison in central Israel in a motorcade protected by bodyguards assigned to former leaders.
"At this time, it is important for me to say once more, as I did in court and outside it, that I completely deny the bribery charges I was accused of," Olmert said in the video.
Olmert was assigned to a small wing of the prison, where he will be segregated for security reasons from the general population along with co-defendants in the real-estate scandal.
He will wear a prison uniform, have two cellmates and spend his first day in jail busy with assessment sessions with a social worker and criminologist — to assess, officials say, whether he is suicidal.
Olmert was found guilty in 2014 of two bribery charges: accepting 500,000 shekels (US$129,000) from developers of a Jerusalem real-estate project widely regarded as one of the city's worst eyesores and 60,000 shekels ($15,500) in a separate land deal.
He was sentenced to six years in jail, but the term was cut by the Supreme Court in December to 18 months after it overturned his conviction on the first bribery charge. Last month, a lower court tagged a month on to that sentence for obstruction of justice.
A separate eight-month prison term is pending since Olmert's conviction last May in another case related to cash payments he was alleged to have received from an American businessman.
Olmert, 70, is the most prominent of several Israeli politicians to be jailed in recent years. They include former president Moshe Katsav, convicted of rape, and present Interior Minister Aryieh Deri, once imprisoned for corruption.
A lawyer by profession, Olmert began his political career in the 1970s as a lawmaker who targeted organized crime.
As Israel's leader, Olmert waged war against militants in Lebanon in 2006 and the Gaza Strip in 2008. He claimed significant progress in talks with the Palestinians, offering an Israeli withdrawal from much of the occupied West Bank, though no agreement was reached.