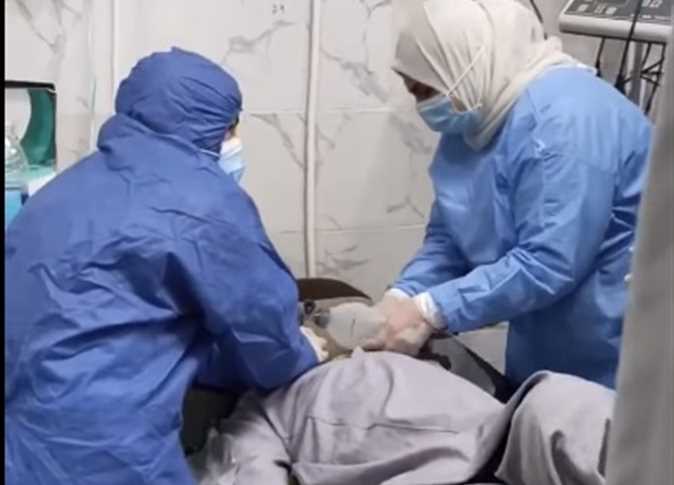 As the country battles with a harsh second wave, four patients with coronavirus died in Egypt on Saturday in the intensive care unit of al-Husseineya Central Hospital in the country's Sharqia Governorate due to an alleged lack of oxygen supplies.
A shocking video went viral on social media showing the intensive care unit inside the hospital. The camera pans between beds of motionless patients, while medical staff try to save another patient, and a nurse squats to the floor in shock.
The person recording the video can be heard repeating: "all those in the intensive care are dead… there is no oxygen." Social media users claimed that the deaths were due to the exhaustion of the hospital's oxygen supplies.
A similar post showing the video and raising alarm was made on Twitter:
كارثة حصلت من شوية في مستشفى الحسينية بمحافظة الشرقية ، يعني ايه الاكسجين يتقطع و كل مرضى كورونا اللي في الرعاية يتوفوا بالكامل !!
الفيديو و رعب و قلة حيلة الممرضين مرعبة و محزنة ..
خلوا بالكم بقى من نفسكم عشان بجد من كتر استهتارنا بستر ربنا معانا لغاية دلوقتي هنفوق على كوارث pic.twitter.com/eYkRlcdhOh

— فَرَاوَلُة🍓 (@mennaashraf1369) January 3, 2021
Egypt's Undersecretary of the Health Ministry in Sharqia, Hisham Masoud, released a statement after the video clip went viral, saying that his department closely investigated the deaths.
According to Masoud, the Health Directorate in Sharqia dispatched a committee to the hospital to inspect the matter, where it found that four people had died, one of whom was on a ventilator.
Masoud stressed that the level and storage of oxygen was sufficient for the hospital's capacity at the time, indicating that the four deaths were due to the exacerbation of the cases and health complications, and not due to lack of oxygen.
He pointed out that the hospital's oxygen network is feeding both the intensive care and incubators departments, saying that there were 17 children in the incubators, and 36 COVID-19 cases in the isolation department.
The video came hours after a similar incident took place in Zefta General Hospital in al-Gharbiya governorate. Two people in the hospital died reportedly due to lack of oxygen, and Egypt's Public Prosecution quickly responded, saying it would investigate the incident, while the Health Ministry denied it.
Egypt is witnessing a significant increase in new coronavirus cases, with 1,407 new cases of the virus reported over the past 24 hours, bringing the total number of reported cases to 140,878 and 7,741 deaths.
Government officials have asserted that these numbers represent only 10 or 15 percent of the real numbers of infections, which may reach 20 times the numbers announced by the Health Ministry.