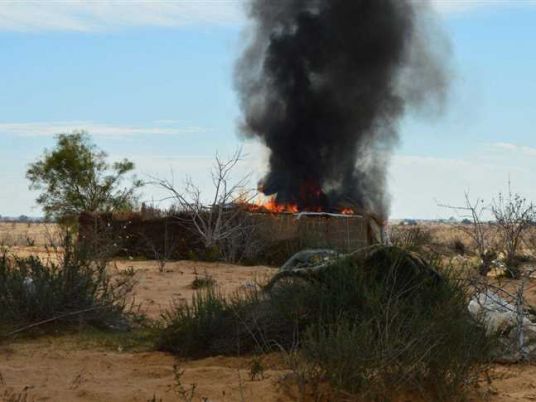 Five top dangerous takfiris, including a leader of Ansar Bayt al-Maqdis terrorist group in North Sinai governorate, military spokesperson Colonel Tamer al-Refaei said in a statement on Sunday.
Ansar Bayt al-Maqdis is a terrorist group which pledged allegiance to the "Islamic State" (IS) terrorist organization in 2014. It has been orchestrating attacks against army, police, judges, and Coptic Christians, killing dozens.
He added that army efforts are continuous in raiding and combing the terrorist strongholds and chasing the takfiri elements.
16 other Takfiri elements have been arrested, one vehicle has been destroyed, automatic weapons seized, and 80 bullets confiscated, Refaei said.
The forces discovered and dismantled two explosive devices that had been prepared to target the forces on the roads, he added.
Refaei concluded, saying that law enforcement forces continue to carry out their tasks with determination, to uproot terrorism and eliminate the takfiri elements from northern Sinai.
Egyptian military and security forces have been battling a dangerous insurgency in the north of the peninsula since the removal of former President Mohamed Morsi in June 2013.
Militants linked to the IS militant terrorist group frequently conduct ambushes, mortar attacks and roadside bomb attacks in the North Sinai governorate.