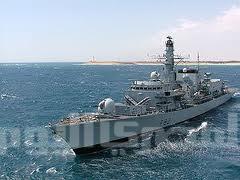 The La Tribune French newspaper has announced that President Abdel Fattah al-Sisi was offered four military ships from France at a cost of 580 million euros. The offer was made by the DCNS French industrial group specialized in warships, according to the newspaper.
In other deals, Egypt and France have not been able to finish negotiations on the sale of two satellites for Cairo, one of them for military intelligence purposes. Major General Mohamed al-Assar, Military Production Minister, traveled to Paris last week to negotiate the deal, La Tribune said.
The Egyptian delegation left Paris Tuesday without signing the deal, pointing out that Sisi seeks to conclude the satellite deal as soon as possible،
Egypt has also been in talks with Russia and has recently signed an agreement on a system for the protection of aircraft and helicopters from surface to surface missiles and surface to air missiles. The deal was announced at a press conference on Friday.
Edited translation from Al-Masry Al-Youm