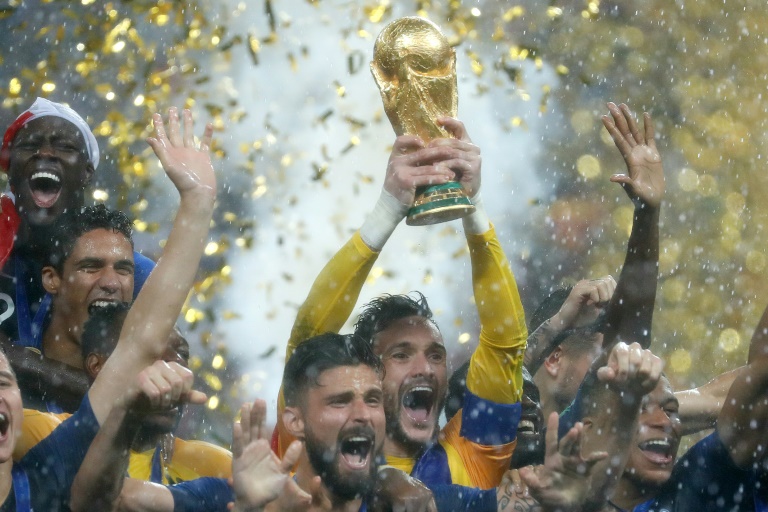 The World Cup-winning French team were travelling home on Monday for a victory parade on the Champs Elysees following their triumph in Moscow that sparked wild celebrations nationwide.
France overcame a determined Croatia team to win 4-2 in Sunday's final, with teenager Kylian Mbappe applying the coup de grace and cementing his place as a new global superstar at the age of just 19.
Millions of fans in France celebrated into the night, honking car horns and flying the tricolour flag while the Eiffel Tower and the Arc de Triomphe were lit up in the national colours of blue, white and red.
The Champs Elysees, the gathering point for all national celebrations, was being cleaned up after Sunday night's mass party and will be used for a parade by the team on an electric open-top bus on Monday from around 1500 GMT.
Many commentators focused on the outpouring of patriotism and sense of national unity created by the multiracial French team, many of whose stars including Mbappe and Paul Pogba hail from deprived and often overlooked areas of Paris.
Laurent Joffrin, editor of the leftwing Liberation newspaper, said they had lived up to the ideal of "the republic that we love: united and diverse, patriotic and open, national without being nationalist".
"Endless happiness," trumpeted the headline in France's L'Equipe sports newspaper, while the Journal du Dimanche weekly rushed out a special edition in Paris hailing a team which has ascended "To the Stars".
'Champions of the world'
In Paris, the metro system temporarily renamed six of its stations in honor of the key players, with the Victor Hugo stop — named after the famed 19th-century writer — becoming Victor Hugo Lloris after the team's captain and goalkeeper.
Two stations were rebaptised in tribute to coach Didier Deschamps, who captained the national side to victory on home soil in 1998.
Alongside Mario Zagallo and Franz Beckenbauer, he has become only the third man to win the World Cup both as a player and coach.
Deschamps, who was soaked in champagne by his overjoyed players in a chaotic press conference, said afterwards that the win was "just as big and just as beautiful" as his 1998 triumph.
"There are two things that matter — one is that these 23 players are now together for life, whatever happens, and also that from now on they will not be the same again, because they are world champions," he said.
"To be champions of the world as professional footballers, there is nothing better."
French President Emmanuel Macron, who attended the game at Moscow's Luzhniki Stadium, is set to host the players at a reception at the presidential palace along with 1,000 children later Monday.
The 40-year-old centrist had an eventful evening in Moscow where he was pictured wildly celebrating each of the goals, was drenched in a downpour during the trophy presentation and then became a social media sensation.
The latter was down to French defender Benjamin Mendy, who posted a video of the former investment banker attempting to "dab" in the players' changing room — a form of celebration imported from American football and rap.
'Extraordinary soccer'
Macron will be relieved that an evening of joyous and occasionally chaotic celebrations back home passed off without any major incident following a string of terror attacks in France since 2015 that have claimed nearly 250 lives.
There were 292 people arrested nationwide and isolated clashes between police and rowdy crowds in Paris, Lyon and Marseille.
Several French supporters were involved in fatal accidents, including a man who threw himself into a shallow canal in the city of Annecy.
For Croatia, a country of just four million people, the loss was bitter but their fans took solace in the best run in the nation's history, which featured a stunning win against Argentina and a semi-final victory against England.
"Thank you, heroes! – You gave us everything!" read the Sportske Novosti front page. "'Vatreni' (the "Fiery Ones" in Croatian), you are the biggest, you are our pride, your names will remain written in gold forever!" the newspaper said.
Croatia playmaker Luka Modric was voted best player of the tournament, Belgium's Thibaut Courtois was named the best goalkeeper and Harry Kane of England won the Golden Boot as top-scorer with six goals.
US President Donald Trump tweeted congratulations to France for their "extraordinary soccer" and also praised Russia's President Vladimir Putin for his hosting of the tournament, which he described as "one of the best ever".
Putin said Russia could be "proud" of its organisation of the event, adding that foreign visitors holding World Cup fan ID cards could have visa-free entry for the rest of 2018.