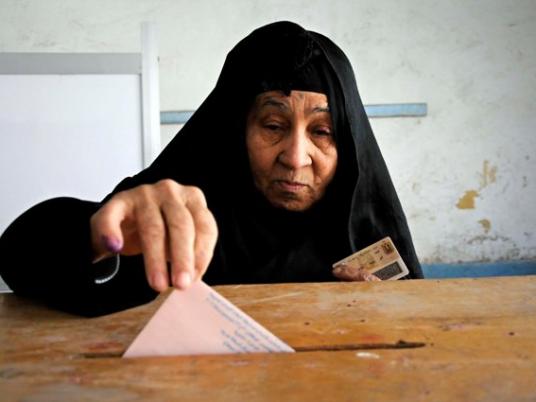 The High Judicial Elections Commission (HJEC) held a press conference on Saturday to announce the winners of the run-offs for the single-winner seats in the second phase of parliamentary elections held on 21 and 22 December.
Abdel Moez Ibrahim, head of the HJEC, announced the results for the nine governorates included in the round.
In Giza's third constituency, Amr al-Shobaki, a political analyst, won the professional seat.
Mohamed Abdel Moneim al-Sawy, an independent who briefly served as culture minister immediately following the ouster of former President Hosni Mubarak, won the professional seat in Giza's fourth constituency.
Among the most notable losers in the second round were Mubarak-era Social Solidarity minister Ali al-Sayed Ali al-Moselhi, who lost the professional seat in the third constituency in Sharqiya.
The Freedom and Justice Party remained in the lead with 4,058,498 votes, followed by the Nour Party with 3,216,430 votes and Wafd with 1,077,244 votes.
The Egyptian Bloc was fourth with 785,000,084 votes and the Wasat Party followed with 368,000,375 votes.
The Reform and Development Party garnered 231,000,713 votes and the Egypt National Party won 169,000,662 votes.
The remaining votes went to the Revolution Continues Coalition, the Egyptian Citizen Party, the Conservative Party and the Democratic Peace Party.
Voter turnout in the second phase climbed slightly to 65.98 percent. Of 17,978,399 eligible voters, 11,863,000 went to the polls, with 11, 173,818 valid votes.
Translated from Al-Masry Al-Youm