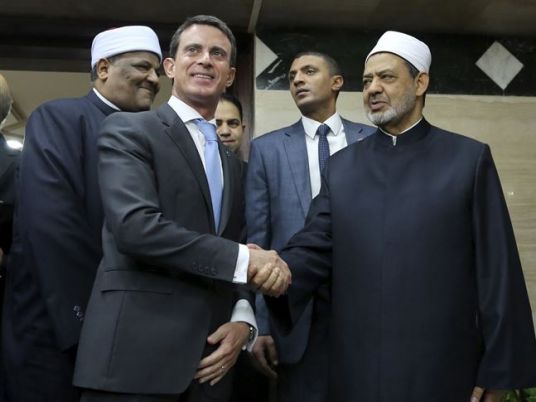 French Prime Minister Manuel Valls has openly rejected some peoples' tendency to link Islam with terrorism, urging instead that people increase their efforts in combating extremist thought.
During a meeting with the Grand Sheikh of al-Azhar Ahmed al-Tayyeb at the latter's office in Cairo, Valls said his country is convinced "of the necessity to collaborate with al-Azhar in highlighting Islam's tolerance and promoting the culture of coexistence among nations".
The French premier, who started a two-day visit to Egypt on Saturday, urged the need to combat "the thoughts of extremist groups" while stressing that people "not mix Islam with terrorism".
"We have been suffering from the fact that there is only one voice for Islam in France, and we support the idea of training and qualifying imams in France to counter extremist thought so as for the youth not to fall prey to militant groups," Valls was quoted by Al-Masry Al-Youm as saying.
Edited translation from Al-Masry Al-Youm