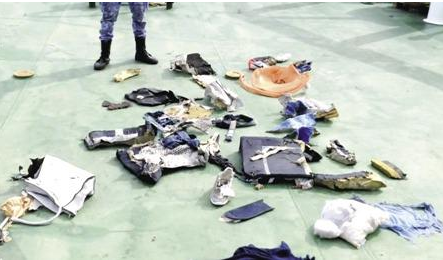 International media published on Wednesday the content of a French judicial report accusing EgyptAir Aviation Company of neglecting technical malfunctions in the plane that crashed in the Mediterranean during May 2016 en route from Paris to Cairo.
The report accused EgyptAir Company of neglecting warnings sent by the plane that crashed killing 70 people, including French and Egyptian passengers. Egypt considered the report an attempt by France to deny its responsibility for the incident.
The report said that the plane should not have been allowed to fly because of its poor technical condition. The French newspaper Le Monde quoted the 70-page report prepared by experts specializing in air accidents commissioned by the French judiciary as saying that the Airbus A320 should not have been allowed to take off because it was not eligible to fly and had needed to be checked because of repeated defects experienced during the previous four flights. Those defects were not reported by the crew that worked on the crashed plane.
The report said that the system of mechanical maintenance sent about 20 warnings of serious failures and an electrical problem that could potentially ignite a fire inside the aircraft as well as a problem in the engine valve. EgyptAir ignored the warnings, although the electrical problem appeared in the data for 29 flights by the same plane, and the engine valve failure appeared in 51 flights, according to the report.
Official sources in the Ministry of Aviation said that the report is a French attempt to deny criminal responsibility for the disastrous plane crash, pointing out that the official reports that need to be relied upon are those issued by the investigating committee of the Egyptian Civil Aviation Ministry, which includes experts from the International Civil Aviation Organization (ICAO), France, Airbus Company, and Egypt.
The sources added that within the plane wreckage, the investigation authorities discovered traces of explosive materials in some of the remains of the victims and remnants of the plane, found in the presence of French experts. Therefore, the Ministry of Aviation filed a claim to the Egyptian public prosecutor confirming that the plane was sabotaged when it was in Paris' Charles de Gaulle Airport, turning the case into a criminal incident and not a case of technical malfunction in the plane, the source added.
A committee of the European Union inspects all aircrafts that land in the member countries of the Union and writes observations on both the aircraft and its crew. The committee did not write any negative comments about the crashed Egyptian plane, the source mentioned.
Edited translation from Al-Masry Al-Youm