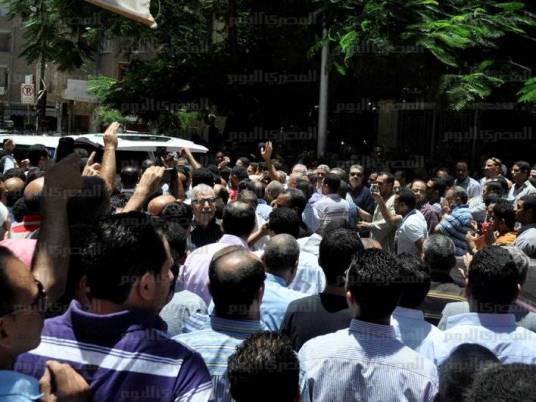 Hundreds attended Monday the funeral of three people who were killed Sunday evening in clashes in the vicinity of the
Assiut governorate building and the
Freedom and Justice Party headquarters in Assiut.
Hundreds of activists prayed
for the soul of the martyr Mohamed Abdel Hamid, who was a director at the National Bank. The family refused to talk to the media.
Activists insisted on marching in front of the governorate building, around which clashes erupted, while carrying his body. They waved Egyptian flags and chanted slogans demanding retribution. The funeral procession then headed to the cemetery.
Simultaneously, residents in the villages of Nogoa Sabae, Bani Hussein, and Menqebad held the funeral of the second victim, Mohamed Nasef, who belonged to the Hayya family, one of the biggest families in Assiut. The funeral was marked by the family's anger,
expressed in the chanting of slogans,
and was held amid extreme security measures.
Activists also attended the funeral of the third victim, Abanoub Atef. The mass was held at the Church of the Resurrection in Darnaka, amid anger and resentment.
During the prayer,
women,
including the mother of the victim,
cried loudly.
Pastors tried to comfort the victim's mother in vain.
Edited translation from Al-Masry Al-Youm