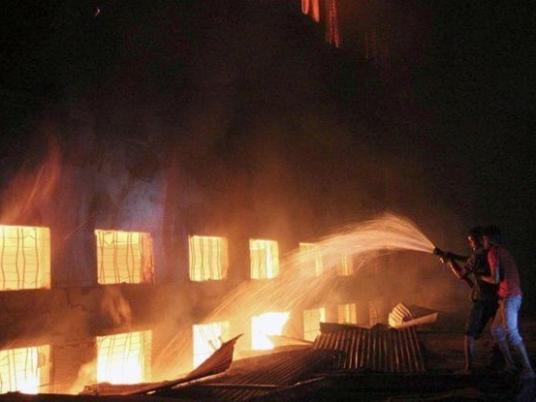 Rescue workers in Bangladesh recovered 109 bodies on Sunday after a fire tore through a garment factory, forcing many workers to jump from high windows to escape the smoke and flames.
Firefighters battled for several hours to control the blaze, which broke out on the ground floor of the nine-story Tazreen Fashion plant, 30 kilometers (18 miles) north of the capital Dhaka on Saturday evening.
Survivors told how panicked staff, mostly women, desperately tried to escape the factory, which the owner said made clothes for international brands including Dutch chain C&A and the Hong Kong-based Li & Fung Company.
"There were more than 1,000 workers trapped in the factory," one worker who gave her name only as Romesa, 42, told local media from her hospital bed.
"I jumped from a window on the fourth floor and found myself on the third-story roof of another building. Several people fell out of the window and died."
Bangladesh is a global center for clothes manufacturing due to cheap labor, with many popular brands using huge factories to produce items for export to Western markets, but work conditions are often basic and safety standards low.
Dhaka district commissioner Yusuf Harun told AFP that the death toll was 109, including several workers who died while jumping from the building's upper floors.
"We laid the bodies out in the grounds of a nearby school and have now started handing them over to relatives," Harun said.
The director of the fire brigade, Major Mahbub, who uses one name, told AFP that most victims were found on the second floor and died of suffocation.
Mahbub said the blaze originated from the ground-floor warehouse and spread through the building, trapping workers who were working on the night shift.
"Those who could not jump died due to suffocation. The factory had three exits but since the fire was on the ground floor, workers could not come downstairs," he said.
The owner of the Tazreen factory, Delwar Hossain, told AFP by telephone that the cause of the fire was not yet known but he denied his premises were unsafe.
"It is a huge loss for my staff and my factory. This is the first time we have ever had a fire at one of my seven factories," he said, confirming that the premises made clothes for C&A and Li & Fung.
Relatives of the workers made phone calls to those inside the factory as it burned, locals told AFP, and one witness said firefighters were helpless as the blaze took hold.
"I came to the factory premises and found workers crying for help," Mohammad Ratan said. "As the fire spread to the upper floors, I saw many jumping from windows."
The cause was not immediately known but fires as a result of short circuits and shoddy electrical wiring are common in South Asian factories.
A blaze in a Pakistan garment factory fire in September killed 289 workers and injured 110 more. Two of the factory owners are facing murder charges.
"Global buyers who buy cheap apparel from Bangladesh do audit safety issues in factories. But these audits are often not actual inspections," said Babul Akhter, head of the Bangladesh Garments and Industrial Workers Federation.
According to the Clean Clothes Campaign, a Amsterdam-based textile rights group, since 2006 at least 500 Bangladeshi garment workers have died in factory fires.
Bangladesh has recently emerged as the world's second-largest clothes exporter with overseas garment sales topping US$19 billion last year, or 80 percent of national exports.
The sector is the mainstay of the poverty-stricken country's economy, employing 40 percent of its industrial workforce.
Also in Bangladesh, at least 13 people were killed after a flyover under construction collapsed on Saturday in the southeastern port city of Chittagong.