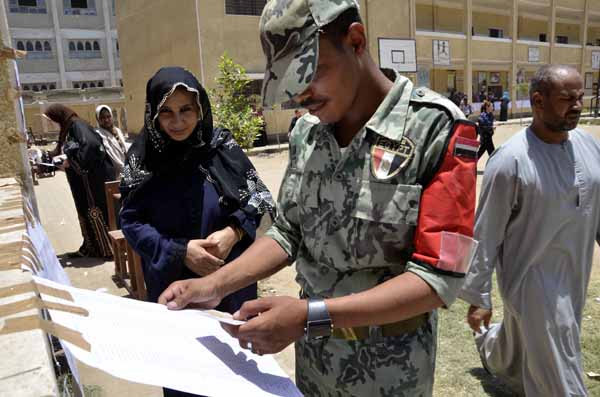 The ruling military council denied on Wednesday allegations from a media personality that it had intervened to help President-elect Mohamed Morsy into office.
Tawfiq Okasha, a former parliamentary candidate and head of the Faraeen satellite channel, sharply denounced the military council Monday and accused the generals of rigging the elections. He claimed that his friends told him former Prime Minister Ahmed Shafiq was the actual victor with more than 50 percent of the vote, but that the military council agreed to announce Morsy president because it feared the Muslim Brotherhood and public outrage.
"It is impossible to rig the will of people," Supreme Council of the Armed Forces member Mahmoud Ibrahim Hegazy said during a talk show appearance on privately owned CBC satellite channel.
"The patriotic stances of the armed forces and its commander in chief, SCAF head Field Marshal Hussein Tantawi, challenge this," he added, saying it would be inappropriate for the military council to intervene in election results.
"The military council avoided personal prejudices and succeeded in being neutral to uphold the will of people," he said.
Hegazy rejected rumors that the military cut a deal with the Muslim Brotherhood and the US to sway the election in Morsy's favor.
SCAF member Major General Mohamed al-Assar, who also appeared on the talk show, said the military council was neutral toward both candidates and had pledged to conduct free and transparent elections.
"Yes, Shafiq is a son of the military institution and maintains ties with all of us [military council generals], but that doesn't mean we backed him against the other candidate. Both of them are Egyptians and met candidacy requirements, so they are both suitable for president," Assar said.
"The [military] council did not intervene directly or indirectly to give a better chance to one candidate at the expense of the other."

In response to a question about whether the US pressured Egypt in support of either candidate, Assar said: "The question involves an insult to the military. The military institution cannot betray [its people] and change the outcome of the elections due to pressure from the US."
Responding to objections to the military-issued supplement to the Constitutional Declaration in place since March 2011, Assar said that the document does not detract from the executive powers of the president.
Assar said Tantawi would maintain his position in the next Cabinet as defense minister and head of the military council.
The constitution supplement has triggered political outcry and is criticized for giving the military council independence from the president while diminishing the latter's powers. It also gives the SCAF the power to appoint a new Constituent Assembly to draft the constitution if the current assembly is unable to do so.
Edited translation from MENA