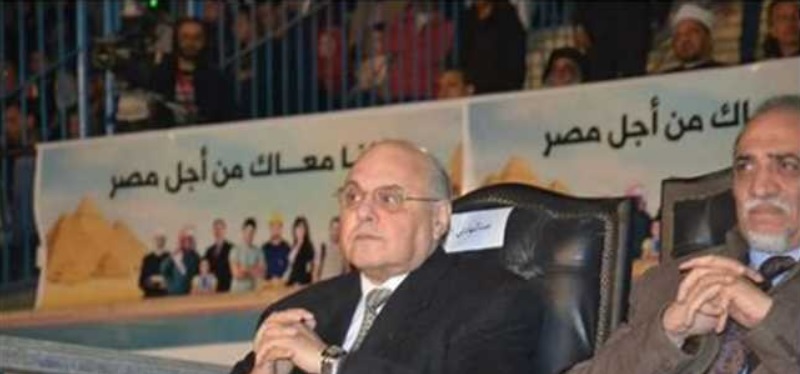 A dozen members of the Ghad Party organized a march in downtown Cairo Sunday to call on citizens to support party head and presidential candidate Moussa Mostafa Moussa for president.
They raised banners that read "Moussa Egypt's President" and "Go out and participate" to urge people to take part in the presidential election scheduled for late March.
Meanwhile, the Federation of Egyptian Trade Unions hosted a mass conference for working women from all over the country under the title "The working woman is up to the challenge" to raise awareness of the importance of participating in the elections to provide a civilized image of the Egyptian working woman as being politically active.
Participants chanted "Long Live Egypt " in support of President Abdel Fattah al-Sisi while also playing national songs like "Teslam al-Ayady" and "Boshret Khair".
Public figures who took part in the conference included Jihan al-Sadat, the wife of the late President Anwar al-Sadat, Maya Morsi, head of the National Council for Women, Maysa Atwa, head of the Women's Secretariat of the Egyptian Federation of Trade Unions, MP Anisa Hassouna, Islamic preacher Amna Nosseir, former Minister of Manpower Aisha Abdel Hady, and MP Alaa Abed, who is Chairman of the Human Rights Committee in the parliament.
Atwa called for positive participation in the presidential elections, and urged citizens to ignore all calls for boycott, saying: "be positive and fight schemes that aim to thwart development projects, and bring your children with you to the polls to know the value of Egypt".
"Women's participation in the election is the strongest message to the world. Every woman will go out [to participate] and will take with her no less than 100 other women," Atwa added.
Morsy also stressed the importance of women's participation in the election describing it as an important event similar to the crossing of the Egyptian army at the Suez Canal during the 1973 war with Israel.
Egypt's presidential elections are scheduled to take place between March 26 and 27 and will see sitting president Sisi compete against Ghad party leader Moussa Mostafa Moussa after all other presidential hopefuls either backtracked on their candidacies or were hindered by authorities from participating.
Edited translation from Al-Masry Al-Youm