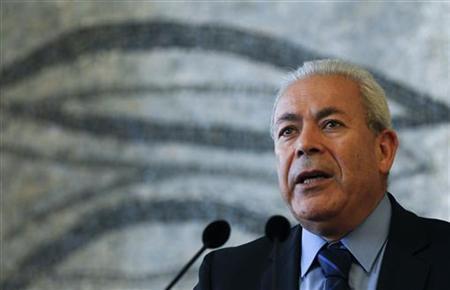 The victory of the Egyptian people over dictatorship is a step towards the victory of the Syrian people, said Syrian opposition leader Burhan Ghalioun today, calling Sunday's announcement of the presidential election results good "tidings for Syrians of their impending salvation."
Ghalioun, former president of the Syrian National Council opposition coalition, wrote a post on his official Facebook account congratulating the Egyptian people on their victory over dictatorship and for "embracing the principles of democracy and civil state, a state of citizenship, equality and freedom for all and with the participation of everyone."
"This victory is a prelude to the victory of the brave Syrian people's revolution against the oppressive junta and their endless crimes," said the 67-year-old sociology professor, who has taught at the Sorbonne for several years.
Ghalioun sent his "congratulations to Mohamed Morsy and to the Egyptian people on succeeding in the first test of democracy."
"The Syrian people are hoping that Cairo plays a role in the Arab peoples' battle for liberation from the scourge of tyranny, slavery, oppression and corruption, and that Egypt provides a boost to the Arab League and the international community" in adopting decisive action against the Syrian regime, Ghalioun added.
More than 10,000 Syrians have been killed by government forces since the start of the popular uprising, according to the United Nations. The Syrian government in turn claims that foreign-funded "Islamist terrorists" are behind the violence and are responsible for the deaths of at least 2,600 security forces and members of the military.