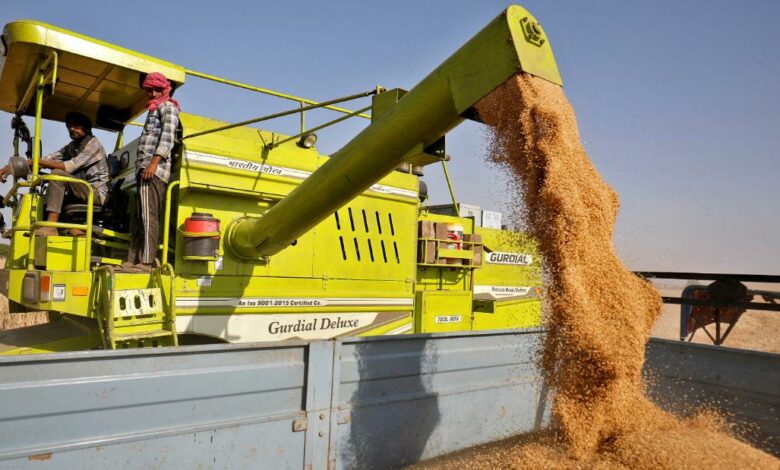 Wheat prices fell on global stock exchanges by more than 20 percent on Saturday after Ukraine and Russia signed two separate agreements with Turkey and the United Nations on Friday regarding the export of grain and agricultural products through the Black Sea.
While Russia's Rosneft and Gazprom will be able to ship oil to non-EU countries, under the recent amendments to European sanctions.
The First Assistant Minister of Supply and Internal Trade and head of the Internal Trade Authority, Ibrahim Ashmawy, said that the price of a ton of wheat globally fell from US$480 to $390 on Saturday.
Ukrainian officials had announced earlier that about 20 million tons of wheat were seized as a result of the war with Russia, and with the signing of the agreement, it was announced that it would be put on the global market, which resulted in a decline in prices on global stock exchanges.
Ashmawy added, in statements to Al-Masry Al-Youm, that the state represented by the Ministry of Supply and Internal Trade bears the high prices of inputs for the production of a loaf of subsidized bread – the price of diesel and the price of wheat before signing the agreement – for the production of a loaf of bread at a price of five piasters, and the state bears the rest of the costs for citizens.
In addition, Russia's Rosneft and Gazprom will be able to ship oil to non-EU countries, under amendments to European sanctions recently agreed by member states to reduce risks to global energy security.
Supply woes
Egypt, the number one country importing wheat, has had its supply of what imports badly impacted since the Russian invasion of Ukraine.
Egypt contracted India to make up for the shortage.
The government stressed in March the regularity of the supply chain of imported wheat contracted from multiple origins, thus enhancing the strategic reserve of wheat.
Edited translation from Al-Masry Al-Youm