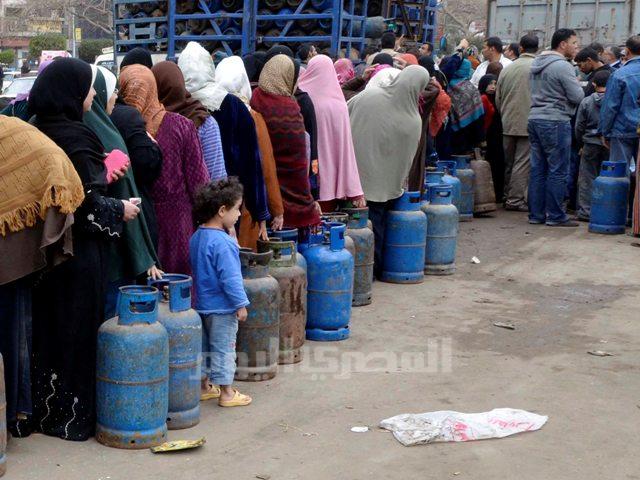 A source who used to work at the Petroleum Ministry said Petroleum Minister Osama Kamal's statement that the ministry holds a reserve of butane that could last for 15 days cannot be true.
"It would be impossible to provide that amount," the source said, stressing that the current strategic reserve could, at best, be enough for a day and a half.
Petroleum Minister Osama Kamal had earlier announced that the government and his ministry had decided to provide a strategic reserve of butane for 15 days in order to avoid future crises.
The source, who previously held a senior post at the Petroleum Ministry and refused to be named, told Al-Masry Al-Youm that, "The average daily consumption of butane is 1 million canisters in the summer, which is equivalent to 12,500 tons per day. That rises to 1,250,000 canisters daily in winter, equivalent to 15,000 tons per day."
"A storage capacity of 180,000 tons would be necessary to hold strategic reserves of 15 days," the source added, explaining that storing this much butane is not currently feasible.
He stressed that, "The current storage capacity is dedicated to refining plants, which means that the actual storage capacity is less than 110,000 tons."
"Relying on floating storage [specialized vessels] in transport and storage cannot absorb the amount needed to meet the minister's statements in practice, he said, because the depth of the port of Alexandria does not accommodate ships loaded with more than 30,000 tons, while the Suez port can only support between 7,000 and 9,000 tons.
Tamer Abu Bakr, head of the energy committee in the Industries Federation, said that, "The government should formulate a plan to increase storage capacity for petroleum products to be implemented by the private sector in order to achieve the desired reserve amount."
"The role of the government should be limited to monitoring and organizing the market," he added.
According to data issued by the Egyptian General Petroleum Corporation, the total storage capacity for butane around the country is 110,00- tons, or enough for eight days, with an average consumption of a million cylinders per day.
Edited translation from Al-Masry Al-Youm