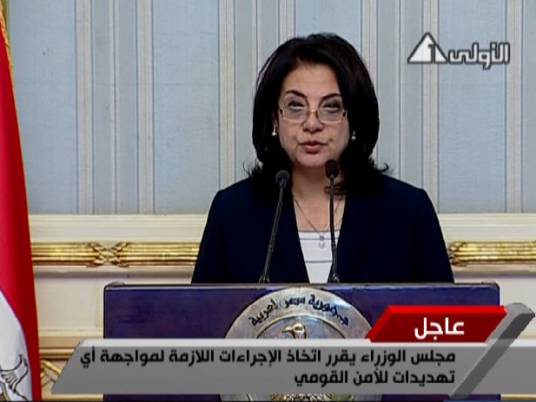 Information Minister Dorreya Sharaf Eddin has announced that the government has decided to start taking all necessary measures to address the risks arising from the sit-ins in Rabaa al-Adaweya and Al-Nahda squares, which have been held by supporters of ousted President Mohamed Morsy since the beginning of this month.
The interior minister has been assigned to carry out this task in conformity with the law and the Constitution.
At a press conference on Wednesday, the minister cited a brief statement issued by the Cabinet saying that the conditions in Rabaa al-Adaweya and Al-Nahda squares, and acts of terror that have occurred there, including intimidation of the public and the blocking off of roads, is no longer acceptable, as it poses a threat to Egyptian national security.
She added that the Cabinet has taken this decision in order to preserve national security and the interests of the country, and that this action is supported by a popular mandate.
Edited translation from Al-Masry Al-Youm