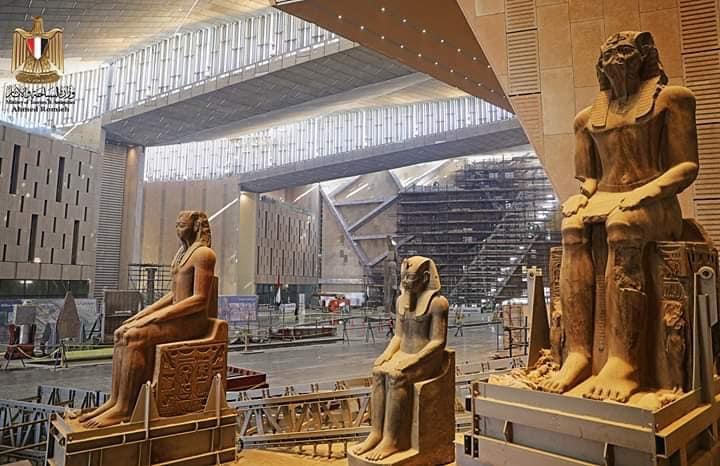 The Grand Egyptian Museum (GEM) will be inaugurated within a few months, Secretary-General of the Supreme Council of Antiquities Mostafa Waziri announced Monday during a phone interview with Ala Mas'ouleety's Ahmed Moussa.
A new wonder of Egypt
The GEM covers an area of ​​more than 500,000 square meters, equivalent to 120 acres.
It will showcase the largest collection of Egyptian antiquities in the world related to a single civilization.
The GEM is designed to display the world's largest integrated collection of ancient Egyptian antiquities, and includes thousands of unique artifacts dating back thousands of years.
The museum reflects the great diversity of Egyptian history and culture, to provide an enjoyable experience for visitors.
This period was characterized by creativity and knowledge, an integration of culture and entertainment.
The visitors will learn about Egypt's ancient past and have a look at its promising future.
The museum displays the Hanging Obelisk Square, which is the first of its kind in the world. While the statue of King Ramses II.
The weight of this enormous piece is more than eighty tons and will be displayed in the Grand Hall.
From the Grand Hall, visitors will begin their journey to explore different facets of  ancient Egyptian history, through thousands of unique artifacts and video presentations and sound.
Visitors to the museum will also see the entire collection of the relics and treasures of King Tutankhamun, in one place for the first time since the discovery of his famous tomb.
The GEM includes a children's museum, a space for temporary exhibitions, a library, and an educational center, in addition to a center for the restoration of antiquities, equipped with the latest scientific technologies.
The museum also includes offices, a grand theatre, a conference room, a business area, and fine restaurants.
As for the exterior of the museum, it will include a group of gardens, including a sculpture garden, a palm garden, and a uniquely designed terraced garden.
Areas available to visit at this stage
The museum is partially opened to receive limited group visits, and to hold some special events that are carefully selected.
During this phase, visitors will be able to visit some sections of the museum, including: the Hanging Obelisk Square, the main hall known as the Great Hall, the Children's Museum, a virtual reality experience, gardens, restaurants, cafes, and shops that include leading Egyptian brands.
Visitors will also be able – upon entering the main reception hall of the Grand Egyptian Museum – to see many unique monuments such as: the statue of Ramses II, the ten statues of King Senusret, the famous "Saqqara Tablet", the victory column of Merneptah, in addition to two statues of the kings of the Ptolemaic period.
The other internal sections and areas of the Grand Egyptian Museum will remain closed, including the two halls of Tutankhamun, until the official inauguration.