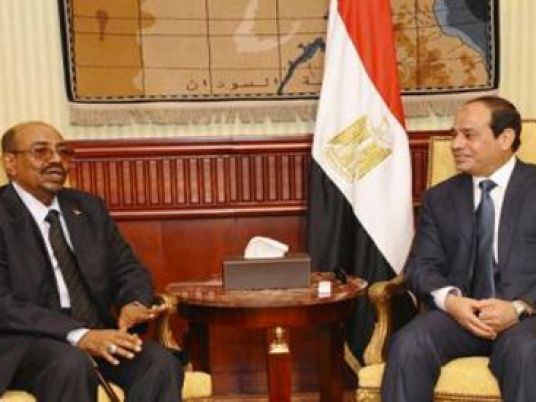 Sudan's ambassador to Egypt Abdel Mahmoud Abdel Halim said that the coming period will witness great momentum in Egyptian-Sudanese relations, including meetings between Sudanese and Egyptian officials, headed by the Egyptian and Sudanese foreign ministers in Cairo.
The Political Consultation Committee between Egypt and Sudan, headed by Ministers Sameh Shoukry and Ibrahim al-Ghandour, will meet in Cairo, after the end of the meetings of the nine-sided Special Committee on the Renaissance Dam, to be held in Khartoum on April 4 and 5.
The Quartet Committee, which includes the foreign ministers of Egypt and Sudan and the heads of the intelligence services of the two countries, is scheduled to meet in Khartoum after the end of the meetings of the Political Consultations Committee and the Arab Summit planned in Riyadh, Abdel Halim added.
"We hope that the joint military and security committee, discussed by Presidents [Omar] al-Bashir and [Abdel Fattah] al-Sisi during the summit held in Cairo a few days ago, will also be held in April," he added.
He explained that in April and May, a number of joint committees will be held between Egypt and Sudan, such as the crossings' committee and the consular committee, pointing out that these meetings address vital and accurate issues between the two countries, ahead of a meeting between presidents of the two countries to be held at the end of this year in Khartoum.
The Sudanese ambassador pointed out that he met with Makram Mohamed Ahmed, president of Egypt's Supreme Council of Press, and agreed to hold a meeting in April as well between media personnel in Egypt and Sudan in an attempt to reach a media code of ethics between the two countries.
Halim described Bashir's visit to Cairo as successful in all respects, both in terms of its timing and content.
The visit succeeded in setting a very clear road map to consolidate the relations between Egypt and Sudan in all fields and to activate mechanisms that will contribute to removing the unsettled issues between the two countries like the Quartet Committee, Halim mentioned.
He stressed that relations between the two countries should not be left only to the political leadership, referring to the importance of the role of civil society organizations, media, intellectuals, and athletes in reviving relations.
He stressed the importance of the role of parliamentarians of the two countries in strengthening bilateral relations, giving an example of the Nile Valley Parliament, which was established during the era of the presidents Gaafar an-Nimeiry and Anwar al-Sadat, and escribing it as a remarkable experience.
Halim stressed the need to solve unsettled issues between the two countries to push relations forward and avoid any possible tensions.
Edited translation from Al-Masry Al-Youm